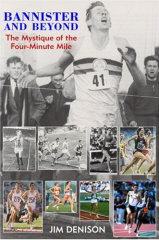 Author: Jim Denison

Hardcover: 288 pages

Publisher: Breakaway Books (2003)

Language: English

ISBN: 1891369350
Since May 6, 1954 when Roger Bannister broke through the wall that many said would never be breached, hundreds of milers have ran sub-four-minute miles, but the achievement is still an extraordinary one, and the four-minute mile stands as a measure of greatness. "Bannister and Beyond: The Mystique of the Four-Minute Mile" by Jim Denison contains interviews with and commentary from the great milers, from Bannister to his great rival, John Landy, to the stars of each succeeding decade. We hear the history of the event from the inside, including John Landy and Derek Ibbotson's recollections of the year leading up to Bannister's great moment, and the flood of extraordinary miles that followed: Don Bowden's story of the first U.S. sub-four; Herb Elliot on training with Percy Cerruty at the legendary Portsea camp; Peter Snell on training with Arthur Lydiard and his Olympic conquest; Jim Ryun's story of his rise to greatness; Pekka Vasala on his Olympic win; John Walker on being the first sub-3:50; Eammon Coghlan, Sebastian Coe, Steve Scott, and Steve Cram on the wild, record-destroying years of the 80s; and contemporary greats Noah Ngeny and William Tanui discussing the jaw-dropping mile records set in the 90s. All of them discuss the mile: its poetry, its rhythms, the tactics for running it, and above all, what it means to run sub-four. This is an important piece of track history, and a book to edify and inspire all runners.
---