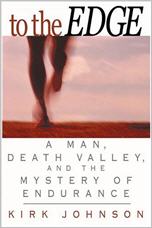 Author: Kirk Johnson

Hardcover: 261 pages

Publisher: Warner Books (2001)

Language: English

ISBN: 0446526177
The "Badwater Ultramarathon" is a 135-mile footrace through Death Valley, from the lowest, hottest spot in the Western hemisphere to Mt. Whitney, the highest point in the continental United States. For a world-class distance runner or adventure racer it represents the ultimate challenge. But for a raw neophyte, seeking merely to understand the nature of perseverance, it is an ordeal that will bring him to the edge. When his much admired older brother, a gifted athlete, committed suicide, "New York Times" reporter Kirk Johnson started running. Running to escape, running to feel closer to his lost sibling, running to comprehend his brother's perplexing surrender. Then he heard about Badwater. An unusually severe sporting event, the "Badwater Ultramarathon" starts in the middle of summer at temperatures of 120 degrees or more and climbs through the even hotter, unforgiving wastes of Death Valley. Besides potentially lethal heat, runners must contend with scorpions and coyotes, 40 mph headwinds, and lightning storms. They hallucinate fantastic visions, develop countless blisters, and face such dangerous dehydration that crew members must accompany them to keep them from stumbling into unconsciousness. Although Johnson had never attempted even a half-marathon, he signed on for the challenge of running the equivalent of five consecutive marathons in a sandswept inferno. To help him, Johnson enlisted his sister, as well as his only surviving brother, from whom he'd drifted apart over the years. His fellow competitors were virtual running machines-dreamers, fanatics, and searchers, all united in the realization that the Badwater run is, fundamentally, a journey inward. On a mid-July day, after a freak rainstorm that delayed the race but did little to alleviate the heat, Kirk stood at the Badwater starting line, waiting with nerve-fraying apprehension. This is an account of what happened. A story of adventure and family, of loss and triumph, "To the Edge - A man, Death Valley, and the Mistery of Endurance" is an enlightening, haunting memoir of one man's quest to understand what makes us survive and, ultimately, what it means to be alive. The book is also available as an eBook. The author, a Pulitzer-nominated writer for the "New York Times", lives in northern New Jersey with his wife and two sons.
---