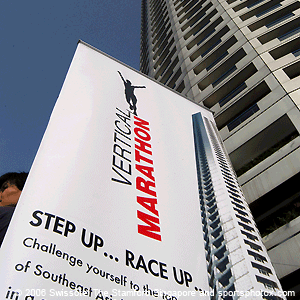 Started in 1987, the "Vertical Marathon" is a gruelling 73 floors vertical race up the 1336 steps of Southeast Asia's tallest hotel, Swissôtel The Stamford, held in Singapore in the month of November.
All participants must complete the race, emerge on the helipad before they are qualified for the certificate but there is no stipulated cut-off time.
In 1989 Balvinder Singh completed the race in 6 minutes and 55 seconds, and he was quoted in the "Guiness Book of World Records".