Cross country team addicted to sport drinks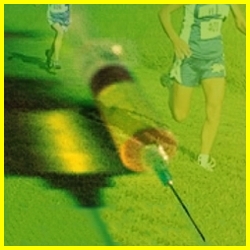 A dangerous new fad has swept into Northern Idaho after local police raided a suburban garage late last Tuesday. Garbage bags of empty Mountain Dew "Amp" were confiscated and loaded into a dump tuck for evaluation at the state crime lab. "It looks like the whole high school cross country team had themselves a little bit of a party", said detective Ricardo Sanchez. "In fact I think we might even find that a few of the cheerleaders were involved as well".
Authorities are piecing together the stories of a secretive cult of long distance runners who had been abusing the increasingly popular sports drink. Speaking on terms of anonymity, 16 year old "Jimmy" told the "Idaho Times" the parties had been escalating rapidly. "I can't remember exactly how it first started" said "Jimmy". "But when those nim-rods from Pocatello Falls killed us in a duel meet last month we all knew we had to do something. So we decided to snort a little Propel before the next race but that only cut off about twenty seconds of our times. So then we moved up to injecting a combination of Gatorade and Powerade under our skin but that just helped us with our finishing kicks". Young "Jimmy" licked his lips as he revealed the true depths of his team's depravity. "We found out that mainlining a 10cc syringe of Amp gave us what we needed. Conference Champs!" he said in a voice that quivered with excitement. "The only thing was ...we couldn't stop. And now it's too late. My mom is going to be so mad!"
School officials announced that there would be a temporary ban on all Mountain Dew products on school premises. Dietary counseling will be available for concerned parents and students.
---
| | | |
| --- | --- | --- |
| | | The Perfect Bunion - A satirical look at running in the United States of America and beyond. |
---
Since September 7, 2007 - © Aerostato, Seattle - All Rights Reserved.


JOIN THE WORLDWIDE RUNNING NETWORK
5kCalendar.com | AccidentalAthlete.com | CalendarioTrail.it | CorrereNelDeserto.com | DeadRunnersSociety.com | HalfMarathon.net | ePodismo.com | MarathonCoupons.com | Maratone & Maratoneti | OlympicGamesMarathon.com | RoadRacingStats.com | Run100Days.com | RunningCalendar.com | RunningInItaly.com | TuttoMaratona.com | Ultramaratona.it | VerticalRunning.it | WorldwideRunning.com