New sliding event for the Chicago Marathon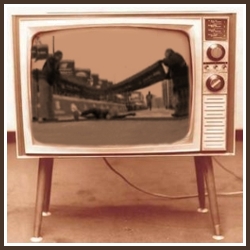 Chicago Marathon race director Carey Pinkowski announced Tuesday that he will be adding a new event to the next edition of the legendary footrace. The announcement came fresh on the heels of the 2006 race that gained instant notoriety for the climactic slip and fall of race winner Robert Cheruiyot as he crossed the finish line.
"Given the tremendous publicity Cheruiyot's fall has generated, I have already added a new event to the docket for next year's race", said Pinkowski from his downtown office in Chicago. "I have tentatively called it the 'Pheiddipiddes Slip and Slide'. In this division each runner will still have to run the marathon distance, but they will have to finish it by sliding headfirst the final fifty yards on a slick plastic mat. If the 'slider' comes up even a single inch short he will be disqualified from the race. I believe the likelihood of human pile-ups at the finish line will only add to the spectacle and intrigue that has become so engrained in the marathon. I think it will be well received by spectators in Chicago and cable TV around the world".
"We deem it as a 'can't miss' opportunity", offered Ben Franklin, marketing director for the Jell-O Division of Kraft Foods. "We will supply the mats in a variety of colors and lubricate each one with gallons of Jell-O. I envision this to be just the start of an event that will take its place alongside 'Competitive Eating' in popularity. And to top it off, the winner of the event will receive a year's supply of Jell-0 in the flavor of his or her choice!"
Cheruiyot was reached for comment. "At first I didn't think it was a very good idea, but then I got to thinking about winning all that Jell-O. I love the cherry flavor, especially if it has sliced bananas in it. I will start my preparation for the 'Slip and Slide' as soon as I can. I always train to win no matter what the event".
Pinkowski has already had his team of risk management officials working on a liability waiver for next year's inaugural event. "I'm excited about the possibilities", he said. "I've already contacted Steve-O and 'Wee Man' from Jackass fame and they've offered to shoot the gun to start the race next year. It's going to put a whole new face on the marathon business!"
This year's race finisher Ed Siira added his own thoughts on the new event. "I think it's a great idea", said Siira. "I'm sick of all these fast runners hogging all the glory. It's about time there's a race that can be won by aging guys like me without having to do all that hard training. Hat's off to Carey!"
Race application forms for next year's race will be available online by March 1st. The Chicago Area Runners Association is expected to incorporate "Slip and Slide" training into their annual marathon build-up that will commence on the first Saturday in April. For more information call Gene at 1-800-SLIDERS.
---
| | | |
| --- | --- | --- |
| | | The Perfect Bunion - A satirical look at running in the United States of America and beyond. |
---
Since September 7, 2007 - © Aerostato, Seattle - All Rights Reserved.


JOIN THE WORLDWIDE RUNNING NETWORK
5kCalendar.com | AccidentalAthlete.com | CalendarioTrail.it | CorrereNelDeserto.com | DeadRunnersSociety.com | HalfMarathon.net | ePodismo.com | MarathonCoupons.com | Maratone & Maratoneti | OlympicGamesMarathon.com | RoadRacingStats.com | Run100Days.com | RunningCalendar.com | RunningInItaly.com | TuttoMaratona.com | Ultramaratona.it | VerticalRunning.it | WorldwideRunning.com