Momentum gained for Prefontaine sainthood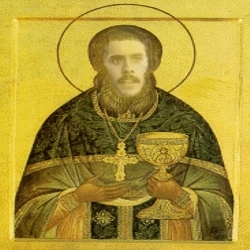 Legendary American distance runner, Steve Prefontaine, has become the focus of an increasingly passionate movement which organizers hope will result in his receiving the rare status of a Saint. The group, which has dubbed itself "Pre Lives On", is the brainchild of South Eugene High School sophomore, Joey Thompson. Thompson says he hatched the idea after having a vision while running the hills that Prefontaine himself trained on during his collegiate years at Oregon before his untimely death in 1975.
"I was just doing an easy seven miler early one morning when a cloud drifted in front of the sun," he explained to a throng of reporters. "It caught my attention and I stopped dead in my tracks. Out of nowhere, Pre's face appeared in the cloud and rays of light shone right through his eyeholes and blinded me." Thompson paused as he cast a long glance into the Oregon skies. "I couldn't explain it," he continued, "it was the most awesome moment I've ever had in my life. After that it was like I was obsessed to form the PLO. I've been shocked at all of the support I've received from high school runners all over the country."
The PLO has grown to over 45,000 registered members and a petition requesting saint status has garnered well over 200,000 signatures and is on its way to Pope Benedict XVI in Vatican City. Currently, only Mother Theresa of Calcutta has completed the first step towards sainthood when she received beatification in 2003. When reminded that in order to be named a saint, two miracles need to be documented, Thompson remained nonplussed.
"Pre made miracles happen on the track every time he ran," he said adamantly. "At one time he owned every American record from the 2,000 meters to 10,000 meters. No disrespect to Mother Theresa, but I'm betting she couldn't put up those kind of numbers. And if you want evidence of a real miracle, ever since the sun from Pre's eyes shined on my face, I haven't had so much as even a single zit!" he said breathlessly as he displayed a flawless chin.
Vatican officials are said to be seriously considering the group's request. Unbeknownst to most religious officials, Pope Benedict has been a long time fan of distance running and occasionally posts on the popular running website, LetsRun.com under the pseudonym of "The Big Guy".
The decision on Prefontaine is expected to be made public after the annual spring Bishop convention in Daytona Beach.
---
| | | |
| --- | --- | --- |
| | | The Perfect Bunion - A satirical look at running in the United States of America and beyond. |
---
Since September 7, 2007 - © Aerostato, Seattle - All Rights Reserved.


JOIN THE WORLDWIDE RUNNING NETWORK
5kCalendar.com | AccidentalAthlete.com | CalendarioTrail.it | CorrereNelDeserto.com | DeadRunnersSociety.com | HalfMarathon.net | ePodismo.com | MarathonCoupons.com | Maratone & Maratoneti | OlympicGamesMarathon.com | RoadRacingStats.com | Run100Days.com | RunningCalendar.com | RunningInItaly.com | TuttoMaratona.com | Ultramaratona.it | VerticalRunning.it | WorldwideRunning.com