Czech couple: "Our son will win!"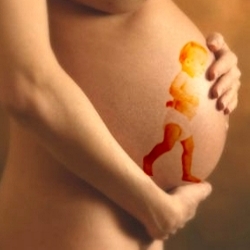 Tomas and Johana Novak have a simple plan for their unborn son and they are not shy in unveiling it to the world. "He will be a champion baby-runner," said Tomas as he was interviewed from his humble home in Koprivnice, Czechoslovakia. "I have made plans for it to be so."
The bold statement from the Czech farmer was fresh on the heels of the news of eight-year-old Mrityunjay (Akash) Mondol and his record setting 72 kilometer run. Mondol, a native of India, completed a test of endurance where he shattered the previous 65 kilometer best of three-year-old Budhia Singh. The young Indian runners have astounded competitive runners across the world with their remarkable feats of endurance. And yet the Czech parents believe that it is their future son's destiny to break the world standard for pediatric ultrarunning.
"My son will be the best," said the bearded Novak. "I have worked tirelessly in assuring he will be running from the moment he leaves the womb. I have my wife walking 25 kilometers a day even though she is due to give birth in less than a week. She has been bothered by blisters, dehydration and cramping, but I believe her pain will only make our son stronger."
"It is true," said Johana as she rubbed a pair of tattered cloths filled with a homemade remedy over her swollen abdomen. "Our son will surpass all existing records of those children from India. Such a runner as our baby the world has never seen! And our magic potion will assure his success." When asked what the pungent balm contained a broad smile lit up the face of the first time mother. "Tomas has made it from the best of ingredients. It is made from cat intestines so that our child will be flexible like a little kitten and we have added crushed horse hooves so that he will have the endurance to run all of the day."
"But the last ingredient is the most precious," beamed Tomas. "I have found socks worn by the great Emil Zatopek when he was himself a boy in Koprivnice. And I have boiled them so as to extract the very juices that made Emil the world champion that he was. The absolute greatness of Zatopek is soaking into my baby in front of your very eyes!" he said as he wife proudly held up the remains of the moth-eaten socks that were once worn on the famed runner's feet.
When asked about the danger of subjecting small children to the rigors of long distance running a darkness fell over Tomas' face. "I will not listen to men who have no dream," he said in a voice that approached a hiss. "I have no time for small and petty men like you. My son will bring glory to our great country that no one will ever forget!"
Johana nodded her head in agreement as she replaced the poultice on her reddened stomach. "Although I will miss our cat, Marta, and our horse, Henry, I believe in the end it will be worth all of our suffering. You shall see!" she said as she raised her teary eyes to the heavens.
Attempts to reach the handlers of the young runners' from India have been unsuccessful. Mondol and Singh themselves could not be reached for comment as it was reported they were deep in the throes of their daily 40-kilometer afternoon training session.
---
| | | |
| --- | --- | --- |
| | | The Perfect Bunion - A satirical look at running in the United States of America and beyond. |
---
Since September 7, 2007 - © Aerostato, Seattle - All Rights Reserved.


JOIN THE WORLDWIDE RUNNING NETWORK
5kCalendar.com | AccidentalAthlete.com | CalendarioTrail.it | CorrereNelDeserto.com | DeadRunnersSociety.com | HalfMarathon.net | ePodismo.com | MarathonCoupons.com | Maratone & Maratoneti | OlympicGamesMarathon.com | RoadRacingStats.com | Run100Days.com | RunningCalendar.com | RunningInItaly.com | TuttoMaratona.com | Ultramaratona.it | VerticalRunning.it | WorldwideRunning.com