Running shoe fetish may lead to prison term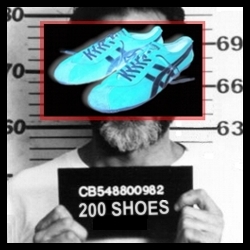 It has long been said that Imelda Marcos had the world cornered on the record number of shoes accumulated over a lifetime. But after the discovery of four storage garages full of old running shoes she may have to take a back seat to an obsessed ultramarathoner from Fort Lauderdale, Florida. Gregarious sixty-year-old Paul Bailey was arrested early Monday morning after he attempted to smuggle in a truck bed full of stolen running shoes that he had absconded from the previous days "Walt Disney World Marathon". The gray-haired Bailey admitted that he routinely honed in on international races that garnered the greatest amount of participants.
"It started back in the sixties when I ran off with Frank Shorter's duffel bag after he ran the two mile at Madison Square Garden" he told local police as he came clean with his misdeeds. "Shorter was my first and one of my best. I found a pair of old trainers inside and I took those little gems home with me and just laid them on the pillow next to me and found myself stroking that leather all night. They were soft as a baby's bottom" he said in a wistful voice. "It wasn't long after that I started into stealin' them for real" he said without a hint of remorse. "I was a United Airlines pilot back then so I had access to all of the big races. I remember when I nicked a pair from Zola Budd in South Africa when she ran a 10K back in the 80's. Technically they were her warm-up shoes 'cause she ran barefoot, but they were still a pretty special find" he explained. "I even got a pair off of Jeff Galloway from a "Peachtree" race in Atlanta way back when. Of course, that was before he started into all that damn walking malarkey" he said with more than a trace of disgust.
When asked if he had any regrets over his aberrant habit his voice raised an octave as he responded. "I always wanted a pair of Hicham El Guerrouj's spikes for my collection" he answered quickly. "But now-a-days the youngsters have a 'posse' watching their every step. It ain't like the good old days".
Bailey will be arraigned early Tuesday and faces charges of both "criminal mischief" and "unnatural abuse of leather products". Local runners are recommended to place all personal belongings under lock and key in an attempt to thwart further transgressions.
---
| | | |
| --- | --- | --- |
| | | The Perfect Bunion - A satirical look at running in the United States of America and beyond. |
---
Since September 7, 2007 - © Aerostato, Seattle - All Rights Reserved.


JOIN THE WORLDWIDE RUNNING NETWORK
5kCalendar.com | AccidentalAthlete.com | CalendarioTrail.it | CorrereNelDeserto.com | DeadRunnersSociety.com | HalfMarathon.net | ePodismo.com | MarathonCoupons.com | Maratone & Maratoneti | OlympicGamesMarathon.com | RoadRacingStats.com | Run100Days.com | RunningCalendar.com | RunningInItaly.com | TuttoMaratona.com | Ultramaratona.it | VerticalRunning.it | WorldwideRunning.com