Genetically modified runners escape from lab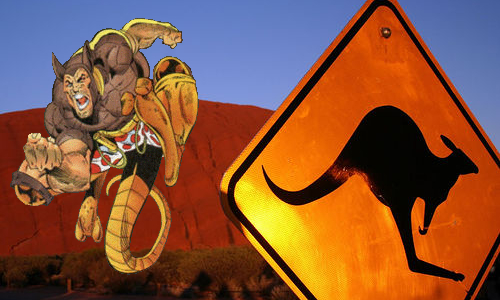 STONY BROOK, N.Y. — Three long distance runners who had recently undergone experimental leg muscle implantation of genetically modified kangaroo cells, escaped early yesterday morning from a forth floor research laboratory at Stony Brook University Hospital, on the campus of the State University of New York at Stony Brook. The three were part of a controversial project known as Super Runner, created by geneticist Dr. Lee Crandall who speaks enthusiastically on his lecture circuit about remaking the modern day runner with the "magic of gene manipulation and cloning."
"We want to talk with anyone who picked up hitchhikers in the area," said University Police Lt. Tara Micelli. Investigators speculate the genetically modified runners got into a motor vehicle soon after hopping off the hospital grounds, either that of a passerby or one driven by an accomplice. Shortly after the escape was reported, police and animal control officers were searching the wooded hills adjacent to the campus, and the nearby Long Island Railroad station. A roadblock was set up on Nicolls Road where motorists were stopped and shown photographs of the runners — two white males and one Native-American female, all in their mid-twenties.
Dr. Crandall has offered a $20,000 reward for information leading to their capture and safe return. "It's vital that these GMRs be corralled and returned to the lab as soon as possible," he told reporters. "There's a vast amount of scientific data at stake here, and just in case anyone is feeling sympathetic towards these individuals, I'd like to remind you that until project Super Runner officially concludes, their leg muscles remain the intellectual co-property of the State of New York and the Sydney Zoo. That's clearly stated in the consent forms they signed."
Crandall has a reputation within the gene therapy community for pursuing bizarre high risk research. But the 70-year-old marathoner is quick to defend his work, believing deeply that scientific endeavors are part of the natural process. He sees himself as both a scientist and artist, focused for now on creating a better, faster runner, one that he hopes will ultimately lead to a racing team consisting of record-breaking human/kangaroo hybrids.
During a taping for a segment of ABC's 20/20 that aired last month, Crandall gave a tour of his small summer home on a narrow barrier island off Long Island's south shore. There was an expansive living room window that afforded a hypnotic view of the sea. Framed race posters and sketches of runners decorated the walls. Crandall ejected a videotape of The Fly, a 1958 sci-fi movie about a human and a fly whose heads are tragically switched in an experiment gone astray. "One of my favorites," he remarked with a smile to the reporter as he inserted a new tape into the VCR.
"You're looking at a five meter stride and a 3:40-per-mile pace," he proudly explained as one of his patients appeared on the screen, her strangely different alien running style immediately evident. She seemed to move almost effortlessly down the beach, rhythmically rising and falling a full meter off the smooth sand.
"Notice the enlarged hamstrings and calf muscles," he said. "Those muscles actually store up energy like a spring. And she's expending far less energy than normal, actually burning less fuel the faster she goes."
Moments later, the reporter brought up one of Dr. Crandall's less successful cases, in which a man experienced pronounced foot elongation and severe balance problems. This was Crandall's initial attempt with kangaroo cell implantation, two years earlier—before he perfected how to turn off certain genes — for which he's now being sued by the patient and fined by the FDA.
"Now that's not fair. I thought we'd agreed not to go there," he said irately while abruptly rising from his chair, ending the interview.
Viewers saw Crandall leaving the room as the reporter asked about an unusual consent form clause that entitled the doctor to 50% of any future race prize money his Super Runner patients might win. It's a matter that has generated considerable controversy, though Crandall has refused to address it publicly.
Appearing last night at a news conference with the two other physicians that make up his research team, Crandall displayed a mockup of a milk carton adorned with photographs of the missing runners. "Within days these milk cartons will be in stores across the tri-state area," he stated. "With the help of law enforcement, the running community, and the general public, we'll find these GMRs, put them back in their cages, and get back on track with project Super Runner."
Later, around 9 p.m., police received reports of a trio of runners moving at an unusually fast pace along route 25A two miles from the campus, but found nothing when they arrived at the scene.
---
| | | |
| --- | --- | --- |
| | | Skewed Running - Laugh out loud with this collection of humorous short stories about running in this day and age. |
---
Since September 7, 2007 - © Aerostato, Seattle - All Rights Reserved.


JOIN THE WORLDWIDE RUNNING NETWORK
5kCalendar.com | AccidentalAthlete.com | CalendarioTrail.it | CorrereNelDeserto.com | DeadRunnersSociety.com | HalfMarathon.net | ePodismo.com | MarathonCoupons.com | Maratone & Maratoneti | OlympicGamesMarathon.com | RoadRacingStats.com | Run100Days.com | RunningCalendar.com | RunningInItaly.com | TuttoMaratona.com | Ultramaratona.it | VerticalRunning.it | WorldwideRunning.com