Beer pipeline break worries roadracers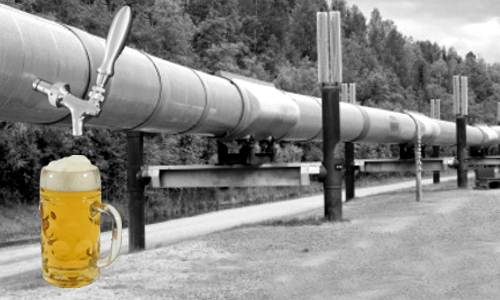 PHOENIX, AZ — Last week's beer pipeline rupture in the desert west of Phoenix has disrupted supplies and created concerns at the Arizona Road Racers, a large running club that has a long tradition of serving beer at its events. Anticipating a beer shortage at its "Thanksgiving Day Classic", the club's Board of Directors met in emergency session last night to formulate contingency plans and to prepare for a meeting later this week with State and federal regulators and representatives from the pipeline owner, Gulf Midstream.
Constructed in the late 1940s and technologically obsolete by industry standards, the 6" diameter refrigerated steel pipeline originates at a complex of breweries in Los Angeles, and delivers 70 percent of the beer consumed in the greater Phoenix market. The line terminates at a beer tank farm south of downtown. From there the beer is loaded onto tanker trucks for transport to local plants where it's put into bottles, cans, and kegs. While the cause of the recent rupture has not been determined, corrosion is strongly suspected. Gulf Midstream has been fined several times in recent years by the federal Office of Pipeline Safety for smaller leaks, each attributed to corrosion. Bud Weisser, Assistant Professor of Beer Studies at Arizona State University, claimed the the unusually high iron content found in beer sold in the state is "almost certainly a result of an aging pipeline lined with rust."
The rupture occurred in a rural area, dumping at least 5,000 gallons of beer and foam into a desert wash from which a group of tortoises later drank. A crew on a passing freight train observed the giant reptiles knocking over several centuries-old saguaro cacti during a drunken rampage.
By Wednesday night, beer prices had risen significantly and stocks of all grades were running low at area retailers. Beer taps ran dry at several bars in Scottsdale, Tempe, and downtown Phoenix.
At a joint press conference last evening, at the State capitol, Governor Janet Napolitano and Arizona Road Racers Vice President for Beer Operations Al Kohollic expressed their concerns.
"This situation is an order of magnitude more serious than last summer's gasoline pipeline break," stated Napolitano. "This is a crisis. While gasoline is a luxury that we can learn to live without for a brief period of time, many Arizonan's, particularly our fine Arizona Road Racers, depend on an uninterrupted supply of cold beer. My office is maintaining close communication with the pipeline owner, Gulf Midstream. And I've made it clear to them that getting this pipeline repaired, tested, and back into service, is of the highest priority."
"I want to thank Governor Napolitano," Kohollic began, "for her attention to this problem, and for working closely with me and the rest of the Arizona Road Racers leadership. As you may know, we had an incident at our race on Sunday. It was a situation that we regret, but that, at the time we had little control over."
Kohollic was referring to a 5-kilometer race at a Phoenix park where a perceived beer shortage led to panicking and "topping off" of beer cups. Expecting a high turnout, the club had planned on having two beer kegs on hand for the run, but could only secure one keg the night before. Soon after runners began crossing the finish line, a long line materialized at the keg, which was quickly emptied before those at the back could get a drink. According to Kohollic, the club paid $230 for a second keg which was sucked dry in only ten minutes. Rumors of people filling up gallon jugs caused tempers to flair. Phoenix Police handcuffed and detained three runners until they calmed down.
"We have a number of participants at our races, who absolutely positively must have beer post-run," explained Kohollic. Running out of beer is not a viable option. We have runs upcoming on our calendar, and the club board has taken several measures, some of which are permanent changes in the way we do things with regard to beer operations, and some of which are temporary to address this particular emergency situation. When combined with the actions the Governor has taken, which she will outline for you in a moment, we believe these changes will ensure adequate supplies for our next two races, including Thanksgiving, which is a big one.
"But these measures will only work with the cooperation of our race participants. Please, please, don't top off your cups. Don't drink more than you normally would. Don't get back in line before you normally would. If it's possible for you to conserve and drink a bit less, that would help too."
"I've asked the federal government for temporary approval to bring beer into Phoenix through a pipeline from Tucson that normally carries jet fuel," said Napolitano. "Also, we are working with distributors to get additional beer trucked in from California and New Mexico. These measures should stabilize our supply and then begin to replenish it. I've also asked the Red Cross to release several cases of beer patches to the Arizona Road Racers. Each patch delivers the equivalent of six ounces of beer through the skin, and they can be used as a backup should beer run out at a future race. I strongly believe that this state needs its own brewery. As an interim measure, the pipeline from California needs to be expanded and upgraded to improve its capacity and reliability. I will be appointing a committee to study these issues.
"Finally, as Al admonished a moment ago, please stay calm, don't top off, don't drink more than usual, be considerate and don't be filling up gallon jugs, and we'll get through this."
---
| | | |
| --- | --- | --- |
| | | Skewed Running - Laugh out loud with this collection of humorous short stories about running in this day and age. |
---
Since September 7, 2007 - © Aerostato, Seattle - All Rights Reserved.


JOIN THE WORLDWIDE RUNNING NETWORK
5kCalendar.com | AccidentalAthlete.com | CalendarioTrail.it | CorrereNelDeserto.com | DeadRunnersSociety.com | HalfMarathon.net | ePodismo.com | MarathonCoupons.com | Maratone & Maratoneti | OlympicGamesMarathon.com | RoadRacingStats.com | Run100Days.com | RunningCalendar.com | RunningInItaly.com | TuttoMaratona.com | Ultramaratona.it | VerticalRunning.it | WorldwideRunning.com