Runaway runner stopped by giant cakes of tofu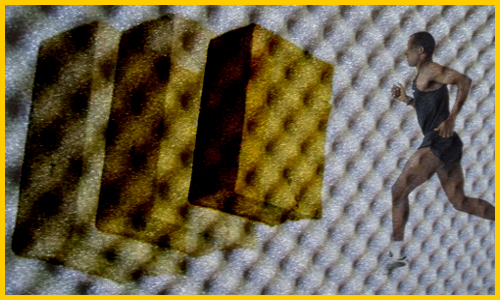 FLAVONVILLE, CA — It was supposed to be a routine 10-mile point-to-point downhill training run along the meandering two lane highway that descends through National Forest land to the valley floor and the town of Flavonville. One that 43-year-old Sedric Sankie, who craved the fast pace, had been doing a couple times a month. His wife Julie would drive him up to the start from their home in town. Then she'd wait for him five miles down the hill where he'd stop for water and a gulp of sport drink. But this time it would be different.
"I couldn't believe what I was hearing. Then I thought, oh, this must be a hoax," said 911 operator Howie Morton, describing late yesterday afternoon's urgent cell phone call from runner Sedric Sankie.
"He wasn't hysterical, but I could tell the guy was worried. He said he was going too fast, he couldn't stop, and that his 'legs had gotten away from him', whatever that meant. Suddenly I realized what he was talking about, and that we had a major problem. And to make matters worse, his cell phone battery was dying."
Morton radioed Sergeant Mollie Tallmadge of the County Sheriff's office, who happened to be patrolling the highway not far from where Sankie was running. Within two minutes she pulled up alongside him in her car, and observed his ragged running form.
"He sure didn't look like he was in control," she said. "The man was moving down that hill awfully fast, and I was concerned that he might wipe out at any moment. My first instinct was to put on my lights and place myself behind him to block any vehicular traffic, so that he could have the entire lane to maneuver. Then I called for additional units and asked my dispatcher to try to get hold of Sam Hewitt, the track and cross-country coach at Flavonville Central High School. I knew him from fifteen years ago when I was on the track team. I thought maybe he'd have some idea, because at the time I was kind of at a loss as to what to do."
Hewitt was at the high school track, where a summer workout session was winding down, when he took the call.
"I knew Sedric," said Hewitt. "In fact I've run with him numerous times. He shows up once a month or so at our Saturday morning running group. Nice guy and a fairly competent runner. But I'll tell you, there was something about his downhill running style that concerned me. He always looked like he was going faster than he wanted to be."
Based on Sankie's current pace and location, he'd arrive at a sharp curve at the bottom of the hill in thirty minutes. Hewitt and Tallmadge agreed that he wouldn't be able to negotiate the curve at the edge of town, and if he continued straight, he'd crash into a day care center.
"We had to get Sedric a new cell phone so that we could let him know what our plan was," explained Hewitt. "Most of my runners had headed home, but luckily Donna Hayek was still here doing some cool-down laps. She's an excellent downhill runner, and strong enough to match Sedric's pace long enough to hand off the cell phone. So I gave her my phone and we jumped into my car and drove the half-mile to the highway with just a couple minutes to spare. She took off running at a six-minute pace, then accelerated as Sedric came up behind her. She handed him the phone as if it were a baton in a relay race. And then that TV news helicopter from Bakersfield swooped overhead, caught the whole thing on video. Great job, Donna did!"
Flavonville, founded by vegetarian settlers in the 1930s, is long known for its tofu factory operated by the Flavonville Soy Company. Hewitt had recently taken a tour of the plant, where his brother Jimmy is Director of Tofu Operations. That's how he knew that the tofu was produced in large cakes measuring seven feet on each side, before being cut into smaller cakes with stainless steel wire. The running coach and physics teacher, had an idea.
"I phoned Jimmy and explained the situation," said Hewitt. "Based on some density specifications he provided me, we decided to deploy a cake of soft tofu on the street 500 feet before the curve. Then we'd place two cakes of firm tofu just behind the soft tofu. The soft tofu would slow him initially without causing any serious injury. Then he'd hit the firmer stuff which my calculations indicated would safely stop him."
Less than twenty minutes later, the road into town had been closed to all but emergency vehicles, allowing Jimmy Hewitt and his crew to position the wet freshly curdled tofu cakes on the pavement. Sheriff's deputies had evacuated the day care center and some nearby homes. A wise precaution in case Sankie failed to impact the tofu at the proper angle.
A late afternoon headwind had slightly slowed Sankie's out of control pace, giving the coach an extra minute to calm Sankie's fears over the cell phone. With binoculars, he watched him come into view, escorted by six sheriff's patrol cars and an ambulance. Moments later, Hewitt gave Sankie some last minute instructions, wished him good luck, then hung up the phone and got out of the way.
With the news chopper parked overhead and feeding live coverage to the networks, Sankie hit the tofu with a loud wet slap. His 165 pound body plowed through the first two cakes and stopped halfway through the third.
Uninjured, but emotionally shaken, Sankie told a reporter: "From now on I think I'll run up the hill and have my wife drive me back down. I want to say 'thanks' to everyone who came out here to help me today."
The Federal Running Administration is investigating the incident. In an emergency safety advisory issued by the agency yesterday, runners who have ever experienced difficulty controlling downhill speed, are advised to "exercise extreme caution when running long downhill grades. Alternate routes and/or downhill stretches away from populated areas should be strongly considered."
---
| | | |
| --- | --- | --- |
| | | Skewed Running - Laugh out loud with this collection of humorous short stories about running in this day and age. |
---
Since September 7, 2007 - © Aerostato, Seattle - All Rights Reserved.


JOIN THE WORLDWIDE RUNNING NETWORK
5kCalendar.com | AccidentalAthlete.com | CalendarioTrail.it | CorrereNelDeserto.com | DeadRunnersSociety.com | HalfMarathon.net | ePodismo.com | MarathonCoupons.com | Maratone & Maratoneti | OlympicGamesMarathon.com | RoadRacingStats.com | Run100Days.com | RunningCalendar.com | RunningInItaly.com | TuttoMaratona.com | Ultramaratona.it | VerticalRunning.it | WorldwideRunning.com