Disabled runner may drive SUV in marathon, says Supreme Court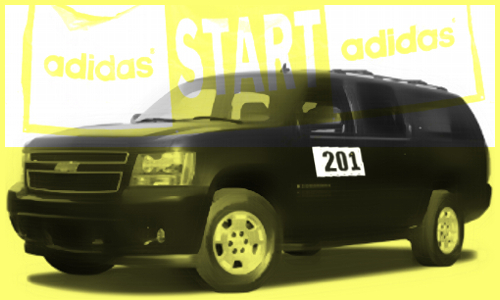 WASHINGTON, D.C. — Reversing a 9th U.S. Circuit Court of Appeals decision, the Supreme Court Friday ruled 5 to 4 that disabled runner Steven Sirota may drive his 2000 Chevrolet Suburban in next month's "Macrohard Lakeside Marathon" near Seattle, though with several stipulations, some of which are highly technical in nature. But the court refused to address the question of what would happen if Sirota won the race and demanded prize money that the race committee has made clear he would not be eligible for.
Sirota, who suffers from arthritis in his hips and shoulders, is unable to run or use a racing wheelchair. He claims that his diabetes, obesity, and pollen allergies necessitate the use of the large Suburban with its extra wide driver's seat, HEPA-filter equipped air conditioning, and roomy interior that can accommodate the microwave oven, refrigerator, and pantry needed to prepare the frequent small meals he consumes to keep his blood sugar level steady.
"Running a marathon has been a dream of mine for thirty years," said Sirota. "Things would come up and I kept putting it off. But my training is going well. This is my year."
Writing for the majority, Justice Clarence Thomas, who owns two Suburbans, called Sirota "a courageous pioneer", and praised his choice of interior and exterior colors and optional equipment. Justice Sandra Day O'Connor, who drives a Ford Expedition, authored a sharply worded dissent.
Sirota sued the Macrohard Lakeside Marathon Organizing Committee (MLMOC) last year under the Americans with Disabilities Act, after Race Director Richard Cavanagh refused his request to increase the finish line height clearance and widen one of the finish chutes to 12 feet.
"He was concerned that our finish banner might get hung up on his luggage rack," explained Cavanagh. "But it would've cost us $2,000 to redesign the support structure to achieve that additional height. And a 12-foot-wide chute would've displaced four standard chutes in an area that was tight for space to begin with.
"Then there was that accident."
Cavanagh was referring to a 1999 incident that made the local TV news in which the 87-year-old Sirota, finishing a long 20 mile training drive, drove a previous Suburban clear through the rear wall of his garage, then through a picket fence and an unoccupied dog house, before ending up in his neighbor's swimming pool. The court cited the incident in its ruling, and set numerous conditions relating to race course safety with special emphasis on the finish line area which sits at the bottom of a long hill. For example, Sirota will encounter a series of rumble strips beginning 500 feet out, and he's required to slow to 40 miles-per-hour before crossing the finish line.
"The entrance to the 12-foot-wide chute will be equipped with crushable impact absorbing devices on each side," said Frank Hernandez, President of HRC Associates, the Portland, Oregon traffic engineering firm contracted by the Supreme Court to prepare plans and specifications for the marathon's finish line zone. "The chute will be 500 feet in length and lined with interlocking concrete construction barriers topped with 4-foot-high debris fencing. There will be two oversized 48 inch stop signs at the far end, supplemented by an overhead 12 inch flashing red light and appropriate pavement markings. If he hasn't stopped by then he'll enter a 200 foot overrun area consisting of an upward slopping bed of one inch river rock, leading to a deformable steel 'catch fence'."
The court also required that Sirota have an assistant aboard the Suburban to prepare his meals and to help with navigation, that he install a downward looking convex mirror on the right front corner of the vehicle's hood and an audible warning device that beeps when the transmission is placed in reverse, and that he not use his cell phone or watch television while driving the course. Sirota's attorney, Michael Dupont, referred to those restrictions as "petty," but concluded that "we can live with this ruling — we're happy."
"We plan to comply with the court and go ahead with this year's race as scheduled," said current Race Director and MLMOC President Krista Kamano. "But we feel this decision is unfair. It puts an unreasonable financial burden on us that may likely mean the future demise of the Macrohard Lakeside Marathon. And it sets a precedent that will lead to more motor vehicles in road races."
Recent polls show that runners are evenly split over the court's action, but that could quickly change if Sirota's participation next month creates the logistical and safety nightmare that his critics are predicting.
---
| | | |
| --- | --- | --- |
| | | Skewed Running - Laugh out loud with this collection of humorous short stories about running in this day and age. |
---
Since September 7, 2007 - © Aerostato, Seattle - All Rights Reserved.


JOIN THE WORLDWIDE RUNNING NETWORK
5kCalendar.com | AccidentalAthlete.com | CalendarioTrail.it | CorrereNelDeserto.com | DeadRunnersSociety.com | HalfMarathon.net | ePodismo.com | MarathonCoupons.com | Maratone & Maratoneti | OlympicGamesMarathon.com | RoadRacingStats.com | Run100Days.com | RunningCalendar.com | RunningInItaly.com | TuttoMaratona.com | Ultramaratona.it | VerticalRunning.it | WorldwideRunning.com