Expensive self-serve water stations anger runners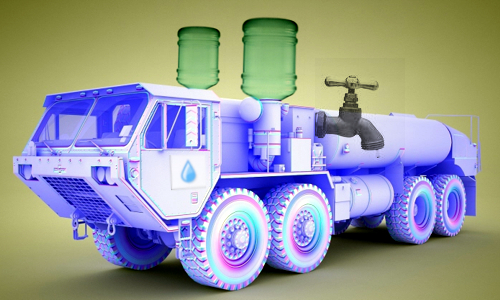 SANTA FE, N.M. — With no plans to abandon the traditional staffed water stations at its many races which include a winter marathon and a popular 5km summer series, Phoenix-based Arizona Road Racers is bucking a trend that some foresighted analysts say could soon make free water expeditiously handed out by volunteers as rare as full service gasoline stations and hot meals on airplanes. Executives at H2OCorp of St. Louis see dollar signs when they review the running club's extensive race calendar. Taking over drinking water distribution at each of those Arizona races would be just one small step in the company's aggressive strategic plan to control 50% of domestic road race water stations by 2010.
At last September's "Rodent Appreciation Week Half Marathon" in Santa Fe, H2OCorp had an exclusive contract to distribute water and beverages on the course and within a 200 meter radius of the start/finish line. Race participants were prohibited from carrying their own water, forcing everyone to use H2OCorp's Hydration Delivery Units (HDUs) — custom designed trucks lined with individual credit card accepting dispensing stations. It was evident early in the race that finish times would be longer than normal due to confusion and delays at the stations that ran up to several minutes. As is typical in such arrangements, 20% of the profits went to the race production company.
"I don't like this at all," complained runner number 2649 as he swiped his Citibank Visa through the slot and then looked anxiously at his watch while awaiting payment approval. "This really slows you down," he said as chilled water began filling a paper cup. A tiny LCD screen next to the dispensing nozzle displayed a six second commercial plugging H2OCorp water and suggesting he visit their web site. "This is a rip-off. Nobody's going to PR today. That's for sure."
Runner number 632 was dismayed that the price of a serving of water was not constant throughout the race. "I don't think they should be charging for water at all. But I wish there were several competing outfits at the same event so that you at least had some choice and competition" she commented while waiting in line at the HDU set up near mile three. Her credit card was charged 85 cents for a 200 ml serving of water, but one hour later and eight degrees warmer at mile ten, she paid $34, a forty-fold increase. "I really needed water at that point. It was either I pay $34 for a drink of water or risk having to pay a whole lot more for a visit to an emergency room for heat stroke."
Jack Milano, CEO of H2OCorp unapologetically defends his firm's demand based pricing policy. "During each race our computers recalculate the price of our water every five seconds based on numerous parameters. These include things like air temperature, relative humidity, how many runners remain on the course, how much we're paying for the water, and so forth. Generally speaking, the thirstier people are, the more we're going to charge. We'll charge as much as we feel people will pay under the circumstances. We owe nothing less to our stockholders."
Addressing concerns of affordability, Milano cites demographic surveys that place the average recreational runner in a high income bracket. "Half these people are millionaires, technically at least, though most of them aren't aware of it, or would deny it if they knew," he said. "Runners are sophisticated folks who appreciate an upscale water, and that's what we provide. Of course we encourage everyone to go to our web site and lock in long term contracts for up to fifty servings of our award winning water. And we have our discount program for the occasional wealth challenged runner."
Milano's discount program is a genuine money saver, but it requires participants to divulge detailed personal information and refer additional customers to the company's web site.
"It's a total outrage, totally ridiculous," exclaims an angry Lamont Sanford, founder and Coordinator of the grassroots organization Runners Who Just Want a Lousy Drink of Water (RWJWLDW). He points to the huge price spikes at the Santa Fe race as examples of price gouging. "H2OCorp and Dihydrox are two corporate thugs out to take control of all the water on Earth and charge whatever they want no matter the consequences. These companies aren't run by runners, and it's just a matter of time before runners start dying at the races because they didn't get enough to drink."
RWJWLDW appears to be well organized with healthy membership numbers and plans for demonstrations and illegal free water stations at upcoming races across the country where H2OCorp or rival Dihydrox will be operating. In a class action lawsuit the group is seeking refunds for thousands of racers who they contend were overcharged for water. The suit includes allegations that H2OCorp deliberately creates water shortages at races in order to produce panic situations in which runners are willing to pay higher prices per serving.
"I encourage runners to volunteer at road races in their community that have traditional water stations," Sanford said last week on NBC's Meet The Press. "When race producers have difficulty finding reliable people to staff their water tables, that's when they often look to sign a contract."
While Jack Milano looks forward to record forth quarter profits, Lamont Sanford is optimistic that runner backlash combined with the efforts of his group will put a swift end to self-serve water stations.
---
| | | |
| --- | --- | --- |
| | | Skewed Running - Laugh out loud with this collection of humorous short stories about running in this day and age. |
---
Since September 7, 2007 - © Aerostato, Seattle - All Rights Reserved.


JOIN THE WORLDWIDE RUNNING NETWORK
5kCalendar.com | AccidentalAthlete.com | CalendarioTrail.it | CorrereNelDeserto.com | DeadRunnersSociety.com | HalfMarathon.net | ePodismo.com | MarathonCoupons.com | Maratone & Maratoneti | OlympicGamesMarathon.com | RoadRacingStats.com | Run100Days.com | RunningCalendar.com | RunningInItaly.com | TuttoMaratona.com | Ultramaratona.it | VerticalRunning.it | WorldwideRunning.com