Police tickets runner for jogging backward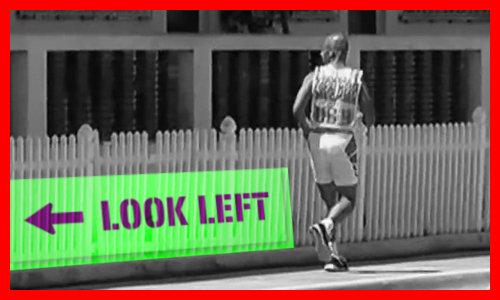 MIAMI BEACH, FLORIDA — When Alex Mesa goes for a run, he usually gets a reaction: "People honk, wave, drive next to me and ask questions," he said. "They give me high-fives, scream my name and cheer me on". But on a recent 5-mile run through South Beach, Mesa got a different kind of reaction - a ticket for $77.50. Miami Beach Police cited Mesa, 44, with obstructing traffic.
For the last six years, Mesa has run his usual route up and down Collins and Ocean avenues between 17th and Fifth streets running backward. "It's harder, it's challenging, it's better for the legs, better for the brain, it keeps you going and it's healthier," Mesa said.
While the police say that's all well and good, the problem is that Mesa runs in the street, and not on the sidewalk. "You can run backwards, forwards, sideways, on a bike or on a skateboard, but you cannot obstruct traffic," said Miami Beach Police Sgt. Bobby Hernandez. "He was running in-between traffic, and the officers were afraid he was going to cause an accident."
But Mesa counters he's been doing it for six years, and he's never had an incident. He wears a green neon running suit, so people can see him from far away; he runs very slowly; and he's aware of his surroundings. "I am 100 percent alert," Mesa said. "I look back and analyze the distance. I turn around and go with the flow. And the street is safer than the sidewalk."
But someone who saw him running his regular route Saturday didn't think so, and called 911. When police caught up with Mesa, they intended just to give him a warning, Hernandez said. "But in this case, the warning didn't work," Hernandez added. Mesa told the officers he was not going to stop running backward and he's not an impediment to traffic.
"I've been running for many years and I know I can't hold up traffic," he said. "I didn't hold up traffic, never. I'm not breaking any law and I'm not a mad man wearing green." And Coral Gables-based attorney Alberto Milian thinks Mesa has a case. He's offered to represent Mesa for no charge. "All he has been doing is running, he has been running all his life," Milian said. "It's a good cause and I am going to represent him."
Mesa hopes that by continuing to jog backwards, more people will recognize it and possibly consider it a sport. He's already gotten attention, with videos of him being posted on YouTube, and he plans to run in the upcoming "Mercedes Benz 5K Corporate Run". He's being sponsored by J.S. Benz International, based in Kendall, along with friends and family. And yes, he'll run the entire race backwards. That's fine with the Corporate Run organizers. "As long as he is part of a team, he will be able to run," said Martha Moya, with the Miami Mercedes Benz Corporate Run.
Mesa, who is HIV positive, said his biggest reward comes when people realize that he's been able to overcome the obstacles he's faced. Last year, he was in hospice for a liver problem. "I'm grateful to live, I've had another chance," Mesa said. "Sick or not sick, people get motivated with what I'm doing and I'm going to continue doing something that's healthy."
He plans on fighting this ticket - and any more he may get - in court. "All I was doing was exercising. They might disagree with how I'm doing it but I'm not breaking the law".
Credits - This true article, "Backwards jogger in South Beach gets ticket for obstruction of traffic" by Maria Camila Bernal was published on "The Miami Herald".
---
| | | |
| --- | --- | --- |
| | | True running stories - A growing collection of incredible, bizarre, and unusual stories from the world of running. Prepared to be shocked at what we uncover when it comes to strange news, first-hand accounts, headlines, and reports from running around the world. |
---
Since September 7, 2007 - © Aerostato, Seattle - All Rights Reserved.


JOIN THE WORLDWIDE RUNNING NETWORK
5kCalendar.com | AccidentalAthlete.com | CalendarioTrail.it | CorrereNelDeserto.com | DeadRunnersSociety.com | HalfMarathon.net | ePodismo.com | MarathonCoupons.com | Maratone & Maratoneti | OlympicGamesMarathon.com | RoadRacingStats.com | Run100Days.com | RunningCalendar.com | RunningInItaly.com | TuttoMaratona.com | Ultramaratona.it | VerticalRunning.it | WorldwideRunning.com