Boston officials grant runner an automatic entry into the marathon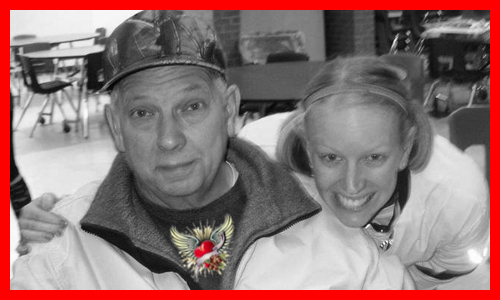 FORT COLLINS, COLORADO — The Colorado Marathon runner who abandoned her qualifying bid to help save the life of another participant who turned out to be her father has been given an automatic entry into the Boston Marathon.
Chris Troyanos, medical coordinator for the Boston Marathon, called Aimee Chlebnik a "hero" and said he would grant an exemption to the usual qualifying standards so she can participate in the April 2012 race.
Troyanos learned about Chlebnik's situation from a Coloradoan story that was emailed to him by a friend in Minnesota.
"I read that story, and this woman stopped her own race to help another runner, not knowing who it was at first, and helped save his life by administering CPR," Troyanos said. "You're not going to get any more of a reason for a waiver than that."
Other participants were huddled over Robert Chlebnik, 63, of Goodrich, Michigan, and performing cardio-pulmonary resuscitation on him about two miles from the finish line of the May 1 race when Aimee Chlebnik, 27, a certified emergency medical technician who teaches CPR classes, stopped to offer her assistance.
Her father had been walking the 13.1-mile half-marathon, which started 45 minutes later at the halfway point of the 26.2-mile marathon course. "As near as we could tell, he did not have a pulse when I got there," Aimee Chlebnik said. "The most terrifying part is being an EMT and knowing when somebody's in that situation they usually don't come back. More times they don't come back than they do, and my brain knew that. I was trying not to think about that and just doing what needed to be done."
Poudre Fire Authority paramedics arrived about five minutes later, Aimee Chlebnik said, and used an automatic defibrillator to get Robert Chlebnik's heart pumping. He was rushed to Poudre Valley Hospital, where he underwent surgery a few days later to have three stents placed in arteries. "Even to think about it now is kind of terrifying," Aimee Chlebnik said, "because I went from this runner's euphoria - I was having this great race, and I was almost done; I was exhausted. It was a total switch of adrenaline from running this race to being totally concerned about my father and trying to figure out what was going on. Even today, it still feels like something that happened to somebody else. I tried to put myself in the EMT mode and not think about the fact that it was my father."
Aimee Chlebnik, an outreach coordinator for the Grizzly and Wolf Discovery Center and volunteer EMT with the fire department in West Yellowstone, Montana, ran the Colorado Marathon twice before while earning her undergraduate degree at Colorado State University and figured it was a good race for her to try to meet the 3-hour, 40-minute Boston Marathon qualifying standard for her age group. She was on pace, she said, to finish in about 3:35 or 3:36, when she came upon her father near the 24th mile of the marathon along the Poudre River Trail, west of Shields Street.
"I was running probably the best race of my life before this happened," she said. Colorado Marathon race director Brian Cathcart said he was pleased Troyanos was granting Aimee Chlebnik a waiver. Colorado Marathon officials had not yet received a response to their request to race officials in Boston to grant the waiver.
Troyanos, a certified athletic trainer and the medical coordinator of the Boston Marathon for the past 25 years, has been trying to encourage runners to get regular heart checkups and CPR training, so they are able to help each other out when incidents like this occur. Runners have had to be revived along the course of the Boston Marathon each of the past two years. In 2009, he said, there were at least nine participants who died of heart attacks during road races in the United States, including one in the Bolder Boulder.
"The stresses of marathoning can exacerbate an undetected heart issue," Troyanos said. "...What we don't want to say to people is this is a risky endeavor. Cardiovascular training is a good thing for you. Just understanding your underlying medical history is a good approach before you begin."
Robert Chlebnik, a diabetic with a bad hip, was a frequent participant in road races and had no known heart issues prior to this incident, said his wife, Ann.
His recovery, Ann Chlebnik said, has been nothing short of remarkable. He walked a mile earlier this week, and Tuesday was driving home with her from Missouri, where they attended a family member's graduation ceremony. If all goes as planned, Robert Chlebnik will be in Boston next year to see his daughter cross the finish line of the marathon. The family plans to return to Fort Collins next May to walk the Colorado Marathon's half-marathon together.
"That would be just incredible," Aimee Chlebnik said. "It'd be so meaningful for me not only to be able to run Boston but to know that my father would be there to watch me finish and to know that he's still around. He told me, 'You should have kept going; you should have qualified,' There are lots of races that I can run, but I only have one dad."
Credits - This true article, "Runner gets spot in Boston Marathon", was published on "The Coloradoan".
---
| | | |
| --- | --- | --- |
| | | True running stories - A growing collection of incredible, bizarre, and unusual stories from the world of running. Prepared to be shocked at what we uncover when it comes to strange news, first-hand accounts, headlines, and reports from running around the world. |
---
Since September 7, 2007 - © Aerostato, Seattle - All Rights Reserved.


JOIN THE WORLDWIDE RUNNING NETWORK
5kCalendar.com | AccidentalAthlete.com | CalendarioTrail.it | CorrereNelDeserto.com | DeadRunnersSociety.com | HalfMarathon.net | ePodismo.com | MarathonCoupons.com | Maratone & Maratoneti | OlympicGamesMarathon.com | RoadRacingStats.com | Run100Days.com | RunningCalendar.com | RunningInItaly.com | TuttoMaratona.com | Ultramaratona.it | VerticalRunning.it | WorldwideRunning.com