Flour biohazard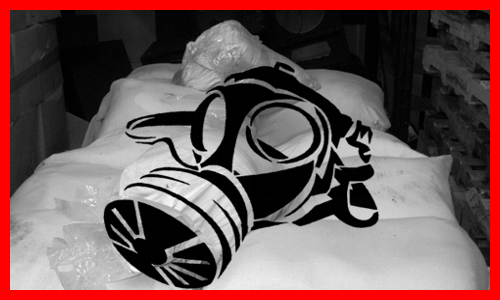 NEW HAVEN, NEW YORK — Daniel Salchow and his sister, Dorothee, planned to spend a pleasant afternoon marking a trail for fellow members of their offbeat running and drinking club. Instead, they wound up in police custody after their clue of choice — flour — set off a bioterrorism scare and forced hundreds of people to evacuate an Ikea furniture store on Thursday.
"It was absolutely not in any way what we intended and not what we anticipated," Dr. Salchow said on Friday at the New Haven courthouse.
Dr. Salchow, a New Haven ophthalmologist, and his sister, who is visiting from Hamburg, Germany, were charged with first-degree breach of peace, a felony.
The siblings are members of the Hash House Harriers, a group that bills itself as a "drinking club with a running problem" and has more than 1,800 chapters around the world. The runs typically end with beer stops at pubs or homes. The club started in Malaysia in 1938, when British citizens there modified an old game called Hares and Hounds.
Dr. Salchow said that the group had used flour to mark a course two months ago in Washington without incident.
Dr. Salchow and his wife recently moved to New Haven, where he works with needy children through a Yale University program.
On Thursday, Dr. Salchow, 36, and his sister, 31, were the hares, meaning they marked a trail for others, the hounds, to follow. To make things interesting, they decided to route runners through the huge Ikea parking lot. Just before 5 p.m., the police received a call that someone was sprinkling powder on the ground. The store was evacuated and remained closed the rest of the day.
The incident prompted a massive response from the New Haven police and authorities from surrounding towns.
Dr. Salchow was at home waiting for the others who took part in the four-mile run to arrive for an after-party when his wife called to say there was a problem. He biked to Ikea and tried to explain to the police that the powder was just flour.
The club's tactics have caused problems elsewhere.
In 2002, a trail of flour caused a mall in Fayetteville, N.C., to be evacuated for two hours. A few months earlier, two runners in Oxford, Miss., were arrested after using piles of white powder to mark a route through a downtown square.
Dr. Salchow said that after the 9/11 attacks, club members started using chalk to mark courses. But as fears eased, they went back to flour because it is biodegradable. He said they would start using chalk again or find somewhere else to run.
Jessica Mayorga, a spokeswoman for Mayor John DeStefano Jr., said the city planned to seek restitution from the Salchows, and will meet Monday to decide how much. Ms. Mayorga said they should not have used the flour if they knew it had caused scares in the past.
"You see powder connected by arrows and chalk, you never know," she said.
Ikea would not provide an estimate of how much money it lost by closing.
The Salchows were released on promises to appear in court. They are due back in court Sept. 14.
"Not in my wildest dreams did I ever anticipate anything like that," Dr. Salchow said.
Credits - This true article, "Offbeat Runners Club Sets Off Terror Scare in New Haven", was published on "The New York Times".
---
| | | |
| --- | --- | --- |
| | | True running stories - A growing collection of incredible, bizarre, and unusual stories from the world of running. Prepared to be shocked at what we uncover when it comes to strange news, first-hand accounts, headlines, and reports from running around the world. |
---
Since September 7, 2007 - © Aerostato, Seattle - All Rights Reserved.


JOIN THE WORLDWIDE RUNNING NETWORK
5kCalendar.com | AccidentalAthlete.com | CalendarioTrail.it | CorrereNelDeserto.com | DeadRunnersSociety.com | HalfMarathon.net | ePodismo.com | MarathonCoupons.com | Maratone & Maratoneti | OlympicGamesMarathon.com | RoadRacingStats.com | Run100Days.com | RunningCalendar.com | RunningInItaly.com | TuttoMaratona.com | Ultramaratona.it | VerticalRunning.it | WorldwideRunning.com