Runner pleads guilty to attempted bribery of track coach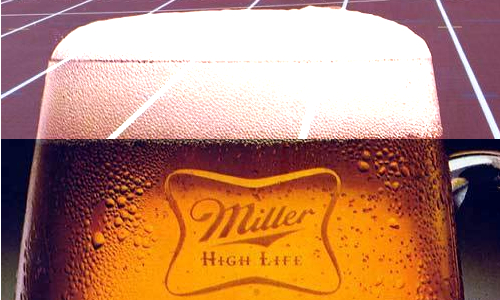 ROCHESTER, N.Y. — Runner Jim Tunkcart, 41, pleaded guilty yesterday to a charge of attempted bribery involving Spencerport High School track coach Ray Emerson. In court testimony, Tunkcart recounted how over a four year period he gave Emerson an undetermined number of Miller High Life 12-packs, in exchange for the incorporation of additional 200 meter intervals in the Wednesday evening track workouts at the high school, that Emerson conducted for the Spencerport Area Road Runners Club. According to Tunkcart, Emerson would leave the rear passenger-side door of his green 1997 Nissan Sentra unlocked so that Tunkcart could park nearby and throw a cold 12-pack into the back seat when no one was looking.
"We had an understanding", Tunkcart told the court, "that each 12-pack was good for four 200's above and beyond whatever 200's he might otherwise have put into the workout. It appeared to me that Ray was honoring our agreement. So to show my appreciation, I occasionally threw in an additional six-pack of a more expensive brew like Heineken or Sam Adams. And then there was the time that I gave him some big bottles of Kirin. The following week the workout consisted of twenty-four 200's. I was elated."
Emerson has denied any knowledge of an agreement with Tunkcart. "Frankly I didn't know who was putting the beer in my car. I appreciated it though," he told a reporter from the Rochester Democrat and Chronicle following last Wednesday's interval workout. "Everyone here knew that Jim loved running 200's. He expressed that to me on a few occasions and urged me to put more 200's in the workouts. But I never added more 200's as a result of our conversations. I had to consider the other runners and I had to maintain the quality of the workouts. I tried to explain to him the benefits of the other distances that we ran, but I got the feeling that I wasn't reaching him. Jim was a 200 meter junkie."
Prosecutors with the Monroe County District Attorney's office do not plan to charge Emerson. "We believe Ray Emerson had no culpability, no involvement whatsoever in anything of a criminal nature," said a spokesperson for the prosecution in the Tunkcart case at a pre-trial press conference. "We're confidant that we can convince the jury that Jim Tunkcart was delusional, and that there was in fact no prearranged agreement with coach Emerson. Yet clearly there was an attempt on his part to influence the coach."
Tunkcart has not talked with reporters. Shannon Napoli, a regular at the weekly track sessions, described to a reporter Tunckart's fixation with 200's. "He always told me how he craved the acceleration and the rush he'd get after running them. How after doing a workout with lots of 200's, he'd be walking around feeling high for the next twenty-four hours. Sometimes I worried about him because he'd push himself so hard during those workouts. I remember once last year he arrived at the track. He said 'hello' to me then went over to the board where Ray had posted the evening's workout and saw that there were no 200's, just a bunch of 800's and 1200's and stuff. Suddenly he erupted into a tantrum and threw his racing shoes onto the field. That's when I told him he needed professional help. He brushed off my suggestion and told me that he had an arrangement with the coach and that by the end of the year all the workouts would consist of nothing but 200's. I knew that was a total lie."
"Jimmy has this fascination with running track. The 200 is clearly his favorite distance and he runs them darn fast for a guy his age," running partner Dennis Winthrop told reporter Lea Thompson of Dateline NBC. "I believe that just prior to his arrest he had finally developed a liking for the 400. It was a hopeful breakthrough for him. I could see the change in the way he ran them. He began to exhibit some of the same passion that he showed when doing 200's. But I feel sorry for the guy. I keep thinking that with a little more time and the right guidance he could have come to appreciate 800's and 1600's, and that whole bribery thing could have been avoided. He's basically a good guy. I hope they go easy on him, and that he eventually gets the help he needs."
---
| | | |
| --- | --- | --- |
| | | Skewed Running - Laugh out loud with this collection of humorous short stories about running in this day and age. |
---
Since September 7, 2007 - © Aerostato, Seattle - All Rights Reserved.


JOIN THE WORLDWIDE RUNNING NETWORK
5kCalendar.com | AccidentalAthlete.com | CalendarioTrail.it | CorrereNelDeserto.com | DeadRunnersSociety.com | HalfMarathon.net | ePodismo.com | MarathonCoupons.com | Maratone & Maratoneti | OlympicGamesMarathon.com | RoadRacingStats.com | Run100Days.com | RunningCalendar.com | RunningInItaly.com | TuttoMaratona.com | Ultramaratona.it | VerticalRunning.it | WorldwideRunning.com