5 Tips for running in the rain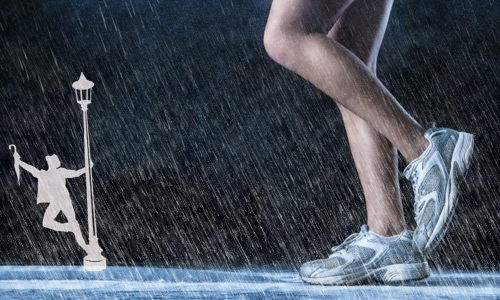 Running in the rain gives you an incredibly uplifting feeling, one where you feel you're taking on the elements and improving your own fitness at the same time. The sensation of a hot bath after being covered by the rain is a very nice and rewarding end to a great running session. There are some things you need to be aware of when running in the rain. Here are the top 5 golden rules:
1. Wearing layers of clothes is better than just one top. Running jackets sometimes agitate the skin a little after a while, so ideally you should wear a lightweight running vest or T-shirt underneath. If you are wearing a waterproof jacket, the under garment should be made of Coolmax or polypropylene to pull away sweat and moisture from the skins surface, as virtually all running jackets will increase your body heat a little more than normal.
2. Wear a windproof, waterproof jacket whenever you are running in the rain, but beware of using cheaper jackets as they do not only keep water out, but also keep the moisture in, leaving you feeling clammy and cold.
3. Wearing a hat with a peak or a brim will stop the rain running in your eyes. Rain running down your face can be quite uncomfortable especially if you happen to be wearing any hair products such as hairspray, gel, mouse or wax as they may combine with the rain and soak in to your eyes. Also if the place you run in is particularly built up then you may tend to have polluted rain which is very acidic, this might cause you some discomfort if it goes in your eyes.
4. Make sure you wear bright and ideally highly visible clothing because when you are running in the rain, not only will your visibility be unclear, but also that of other road users. This will be especially true if there is heavy rainfall.
5. Don't overdress. Ok, it is raining, but that does not mean it is cold. Wearing too many layers of clothes without a rain jacket is not a good idea - your clothing will get saturated adding more weight and give you a further challenge to your workout. The key here is to dress according to the temperature of the day.
One final point to mention after you have been running in the rain is to look after your running shoes by stuffing them up with old newspaper rolled into balls. This will keep your shoes in good shape by sucking the moisture away from the fabric and insole.
Credits - WorldwideRunning.com would like to thank Go Articles for the permission to reprint the article "Running In the Rain - 5 Golden Rules" by Matt Cooke. If you would like to know more about how to start running as a running beginner using the best way and discover how to quickly get fitter, so you have more energy, lose weight fast so you look fantastic and achieve your running goals in the shortest amount of time so you feel successful and fulfilled, go here now www.howtostartrunning.com.
---
Since September 7, 2007 - © Aerostato, Seattle - All Rights Reserved.


JOIN THE WORLDWIDE RUNNING NETWORK
5kCalendar.com | AccidentalAthlete.com | CalendarioTrail.it | CorrereNelDeserto.com | DeadRunnersSociety.com | HalfMarathon.net | ePodismo.com | MarathonCoupons.com | Maratone & Maratoneti | OlympicGamesMarathon.com | RoadRacingStats.com | Run100Days.com | RunningCalendar.com | RunningInItaly.com | TuttoMaratona.com | Ultramaratona.it | VerticalRunning.it | WorldwideRunning.com