Best dogs for runners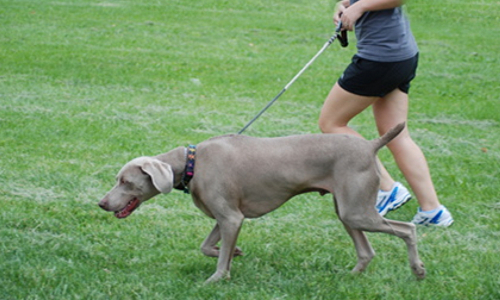 Here is a list of purebred dog breeds which are considered excellent for jogging. If a breed is not listed here, it does not mean it is not a good jogging companion. Even little dogs can be great joggers and there are many, many mixed breeds and hybrid types that would be excellent. This list includes some of the higher energy breeds, which in return make some of the best jogging partners.
Airedale Terrier, Alano Espańol, Alaskan Malamute, American Foxhound, American Indian Dog, American Pit Bull Terrier, Australian Cattle Dog, Australian Kelpie, Australian Shepherd, Austrian Shorthaired Pinscher, Basenji, Bearded Collie, Belgian Shepherd Groenendael, Belgian Shepherd Laekenois, Belgian Shepherd Malinois, Belgian Shepherd Tervuren, Black and Tan Coonhound, Border Collie, Borzoi, Bouvier des Flanders, Boxer, Boykin Spaniel, Braque Du Bourbonnais, Briard, Brittany, Bull Terrier, Canaan Dog, Cane Corso Italiano, Canis Panther, Carolina Dog, Cesky Fousek, Chesapeake Bay Retriever, Chinese Chongqing Dog, Chinook, Cierny Sery, Collie, Cretan Hound, Czechoslovakian Wolfdog, Dalmatian, Danish-Swedish Farmdog, Doberman Pinscher, Dogue Brasileiro, Doodleman Pinscher, Dutch Shepherd Dog, East-European Shepherd, English Foxhound, English Setter, English Springer Spaniel, Estonian Hound, Field Spaniel, Finnish Hound, Flat-Coated Retriever, French Spaniel, French Brittany Spaniel, German Shepherd Dog, German Spitz, German Shorthaired Pointer, German Wirehaired Pointer, Giant Schnauzer, Golden Retriever, Gordon Setter, Greenland Dog, Greyhound, Harrier, Hellenikos Ichnilatis, Hovawart, Ibizan Hound, Icelandic Sheepdog, Irish Setter, Irish Staffordshire Bull Terrier, Irish Water Spaniel, King Shepherd, Kishu Ken, Kooikerhondje, Koolie, Kuvasz, Labrador Retriever, Lakeland Terrier, Leonberger, Maremma Sheepdog, Mountain Cur, Mountain View Cur, Native American Indian Dog, Newfoundland, New Zealand Huntaway, Norwegian Elkhound, Old English Sheepdog (Bobtail), Otterhound, Panda Shepherd, Perdiguero de Burgos, Petit Bleu de Gascogne, Pharaoh Hound, Plott Hound, Pointer, Portuguese Water Dog, Puli (Pulik), Redbone Coonhound, Rhodesian Ridgeback, Roman Rottweiler, Rottweiler, Samoyed, Scotch Collie, Scottish Deerhound, Segugio Italiano, Shepadoodle, Shikoku, Shiloh Shepherd, Siberian Husky, Silken Windhound, Slovensky Cuvac, Soft Coated Wheaten Terrier, Spanish Water Dog, Stabyhoun, Staghound, Standard Schnauzer, Vizsla, Weimaraner, Welsh Springer Spaniel, Welsh Terrier, Wirehaired Pointing Griffon, Wirehaired Vizsla.
Credits - WorldwideRunning.com would like to thank the website Dog Breed Info Center (www.dogbreedinfo.com) for the authorization to reprint the article "Excellent Jogging Companions". Used with permission.
---
| | | |
| --- | --- | --- |
| | | Running with your dog - A growing collection of articles for runners and walkers who love to bring their four-legged friends along. |
---
Since September 7, 2007 - © Aerostato, Seattle - All Rights Reserved.


JOIN THE WORLDWIDE RUNNING NETWORK
5kCalendar.com | AccidentalAthlete.com | CalendarioTrail.it | CorrereNelDeserto.com | DeadRunnersSociety.com | HalfMarathon.net | ePodismo.com | MarathonCoupons.com | Maratone & Maratoneti | OlympicGamesMarathon.com | RoadRacingStats.com | Run100Days.com | RunningCalendar.com | RunningInItaly.com | TuttoMaratona.com | Ultramaratona.it | VerticalRunning.it | WorldwideRunning.com