Food gifts for runners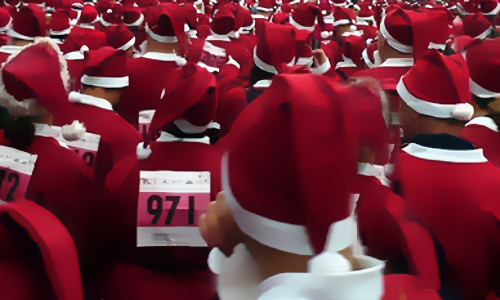 Whether it is a gift for yourself or your exercise buddy, a gift of good tasting but healthful food is always welcome. Yes, everyone loves fudge brownies (for the moment) but why not give gifts that invest in health, performance, and a happier waistline? Here are some good food gift ideas for runners. Enjoy!
Homemade energy bars - If you are tired of eating yet another highly-processed engineered food, give these prize-winning energy bars a chance. They are easy to make, less expensive than commercial energy bars, and they taste yummy. Ingredients for 16 runners: 1/2 cup salted dry-roasted peanuts; 1/2 cup raisins, craisins or other dried fruit; 1/2 cup roasted sunflower seed kernels; 2 cups raw oatmeal, quick or old fashioned; 2 cups toasted rice cereal; 1/2 cup peanut butter, crunchy or creamy; 1/2 cup packed brown sugar; 1/2 cup light corn syrup; 1 teaspoon vanilla - 225 calories (1 energy bar), 30 grams carbohydrate, 6 grams protein, 9 grams fat.
In a large bowl, mix together the peanuts, raisins, sunflower seed kernels, oatmeal and toasted rice cereal. Set aside.
In a medium microwaveable bowl, combine the peanut butter, brown sugar, and corn syrup. Microwave on high for 2 minutes. Add vanilla and stir until blended.
Pour the peanut butter mixture over the dry ingredients and stir until coated.
Spoon it into an oiled 9x13 inches pan. Press down firmly (it helps to coat your fingers with margarine, oil or cooking spray).
Let stand for an hour to harden, then cut into 16 bars.
Oatmeal pancakes - These light and fluffy pancakes are perfect for carbo-loading the day before an event. As a gift, serve them for a surprise breakfast in bed or as the highlight of a special brunch. Ingredients for 3 runners: 1/2 cup uncooked oats, quick or old fashioned; 1/2 cup plain yogurt or buttermilk (or milk mixed with 1/2 teaspoon of vinegar and left to stand for a few minutes); 1/2 to 3/4 cup milk; 1 egg or 2 egg whites, beaten; 1 tablespoon canola oil; 2 tablespoons packed brown sugar; 1/2 teaspoon salt, as desired; 1 teaspoon baking powder; 1 cup flour, preferably half whole wheat and half white - 330 calories (2 pancakes), 84 grams carbohydrate, 13 grams protein, 8 grams fat.
In a medium bowl, combine the oats, yogurt, and milk. Set aside for 15 to 20 minutes to let the oatmeal soften.
When the oatmeal is through soaking, beat in the egg and oil; mix well. Add the sugar and salt, then the baking powder and flour. Stir until just moistened. For best results, let the batter stand for 5 minutes before cooking.
Heat a lightly oiled or nonstick griddle over medium-high heat (375 °F degrees for electric frying pan).
For each pancake, pour about 1/4 cup batter onto the griddle. Turn when the tops are covered with bubbles and the edges look dry.
Serve with syrup, honey, applesauce, or yogurt.
Best ever banana bread - This highly acclaimed recipe has been included in each edition of the "Sports Nutrition Guidebook". It is just too good to delete! Athletes love this banana bread for fueling up before and refueling after hard workouts. For best results, use bananas covered with lots of brown speckles. Ingredients for 4 runners: 3 large well-ripened bananas; 1 egg or 2 egg whites; 2 tablespoons canola oil; 1/3 cup milk; 1/3 to 1/2 cup sugar; 1 teaspoon salt; 1 teaspoon baking soda; 1/2 teaspoon baking powder; 1-1/2 cups flour, preferably half whole wheat and half white - 135 calories (1 of 12 slice), 24 grams carbohydrate, 3 grams protein, 3 grams fat.
Preheat the oven to 350 °F degrees.
Mash bananas with a fork.
Add egg, oil, milk, sugar, salt, baking soda, and baking powder. Beat well.
Gently blend the flour into the banana mixture and stir for 20 seconds, or until just moistened.
Pour into a 4x8 inches loaf pan that has been lightly oiled, treated with cooking spray, or lined with wax paper.
Bake for 45 minutes, or until a toothpick inserted near the middle comes out clean.
Let cool for 5 minutes, then remove from the pan.
Plain or spicy nuts - Despite popular belief, nuts can healthfully be a staple food in your daily sports diet, not a special treat. Their health protective fat not only helps lower the risk of heart disease but also contributes to enhanced endurance (when compared to a fat-restricted diet). Even dieters can eat small servings of nuts; they can nicely curb one's appetite. Almond butter or cashew butter from the whole foods store are enjoyable ways to boost nut intake, and make nice food gifts, as does a jar of mixed nuts for snacking. If you prefer some fancier nuts, try this recipe for spiced nuts. For individual gifts, put 1/4 cup of spiced nuts in the center of a small square of plastic wrap, bring the ends of the plastic wrap together, tie with a ribbon. Voila! A tasty, portion controlled, heart healthy sports snack. Ingredients for 8 runners: 1 egg white, slightly beaten; 1 teaspoon curry powder; 1 teaspoon cumin; 1/2 teaspoon salt; 1 teaspoon sugar; 2 cups walnut halves. Note: if you are not a curry fan, try the Mexican blend with 1/2 teaspoon each garlic powder and cumin, 1/8 teaspoon cayenne pepper, as well as the sugar and salt - 220 calories, 4 grams carbohydrate, 6 grams protein, 20 grams fat.
Preheat oven to 350 °F degrees.
In a medium bowl, mix egg whites with spices. Stir in the walnuts and coat thoroughly.
Spread on a nonstick baking sheet. Bake for 15 to 18 minutes or until dry and crisp.
Cool completely before serving. Store in an airtight container.
Credits - WorldwideRunning.com would like to thank Nancy Clark for the permission to reprint the article "The Athlete's Kitchen: The gift of good food for you & your friends" by Nancy Clark. Text © by Nancy Clark. Sports nutritionist Nancy Clark, MS, RD counsels both casual and competitive athletes in the Boston-area (tel. 617-795-1875). The updated 6th edition of her best-selling Sports Nutrition Guidebook (2019) can help you eat wisely and well, and is available at NancyClarkRD.com. For her popular online workshop, visit NutritionSportsExerciseCEUs.com.
---
Since September 7, 2007 - © Aerostato, Seattle - All Rights Reserved.


JOIN THE WORLDWIDE RUNNING NETWORK
5kCalendar.com | AccidentalAthlete.com | CalendarioTrail.it | CorrereNelDeserto.com | DeadRunnersSociety.com | HalfMarathon.net | ePodismo.com | MarathonCoupons.com | Maratone & Maratoneti | OlympicGamesMarathon.com | RoadRacingStats.com | Run100Days.com | RunningCalendar.com | RunningInItaly.com | TuttoMaratona.com | Ultramaratona.it | VerticalRunning.it | WorldwideRunning.com