Green guide for runners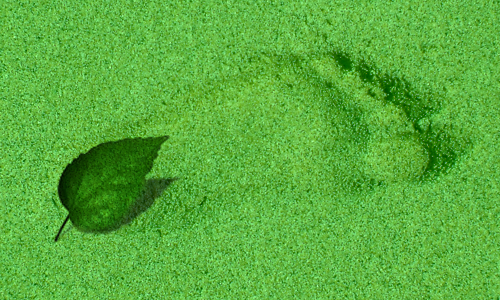 These days, it seems like everyone is going green. There are a variety of ways to live green, but have you thought about greening up your next run? Here are a few easy tips for saving the planet all in a day's run.
Put your worn out running shoes to good use with Nike's Reuse-A-Shoe Campaign which recycles old athletic shoes of any brand into new surfaces (Nike Grind) to create running tracks, basketball courts playgrounds and soccer fields. The Reuse-A-Shoe Campaign is one of Nike's longest running environmental and community programs and to date has recycled more than 20 million pairs of athletic shoes and created more than 250 sport surfaces. Learn more at letmeplay.com.
Wash your running clothes with cold water, hang dry and wait until you have a full load. It is an apparel-friendly way to get them clean and dry, you'll save energy and reduce your carbon footprint too!
Run an errand, literally. Burning a gallon of gas burns about 25 pounds of CO2. Try running or biking your errands. You will burn the pounds off, save money on gas and contribute to the reduction in greenhouse gas. If you have to drive, park in a central location and walk to the bank, drug store and post office.
Head out to the garden after your runs. It is a great way to improve flexibility, keep moving to cool down and nourish the planet's natural green system. While you're there, keep your yard safe for your family by using organic non-chemical options.
Share a ride to your next race. You'll go carbon-light and share your race stories with a good friend. While you're at it, pack your pre-race Elvis sandwich in a reusable container.
Use a fluid belt or pack with re-usable bottles or bladders. Water bottles are around for the long run and don't decompose. You'll stay hydrated and reduce your contribution to Mt. Plastic.
Recover post run with organic fruits, veggies and foods. Organics have been shown to be considerably higher in nutrients without the risk of pesticides.
BYOB: Bring your own bag to your next race expo. You can pick up what you need and save another needless bag. A lot of races are going bag-free. The next time you run a bag-free race send the race director a note supporting their efforts.
Credits - WorldwideRunning.com would like to thank Jenny Hadfield (www.jennyhadfield.com) for the authorization to reprint the article "Green Guide for Runners". Coach Jenny Hadfield is Active Expert and the co-author of the best-selling "Marathoning for Mortals", and the "Running for Mortals" and "Training for Mortals" series. Text © 2008 by Jenny Hadfield - May not be reproduced without permission.
---
Since September 7, 2007 - © Aerostato, Seattle - All Rights Reserved.


JOIN THE WORLDWIDE RUNNING NETWORK
5kCalendar.com | AccidentalAthlete.com | CalendarioTrail.it | CorrereNelDeserto.com | DeadRunnersSociety.com | HalfMarathon.net | ePodismo.com | MarathonCoupons.com | Maratone & Maratoneti | OlympicGamesMarathon.com | RoadRacingStats.com | Run100Days.com | RunningCalendar.com | RunningInItaly.com | TuttoMaratona.com | Ultramaratona.it | VerticalRunning.it | WorldwideRunning.com