Running poems from ancient Greece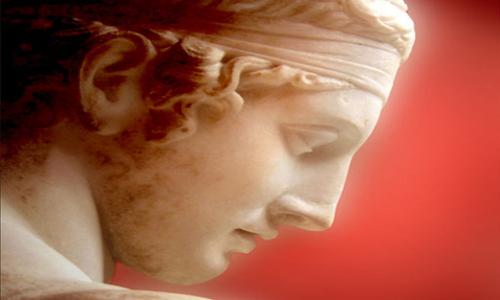 Pindar
Pindar's Victory Odes are songs of praise for successful athletes, written to be chanted or sung, with music and dancing, on the winner's return to his home city. Usually they are more concerned with the glory of the city and ancestry of the family (who were paying the poet) than with the sporting event itself. One of the few I really like is about a winner who found his way to the Greek mainland only because of civil war in his own country (a land famous for its springs). He gained recognition through his running.
Great runner, four times victor at the Games,
But for a war you would have known no fame.
Though exiled from the bubbling springs of home,
Your swift pace made a new land's fields your own.
[Pindar, Olympian Ode 12, 460 bC]
Bacchylides
The Victory Odes of Bacchylides give us more of the action. This one gives a vivid account of high-pressure racing on the up-and-down straights of a Greek track (no bends, just posts at each end). Then it moves into comedy, as the winner, smeared with oil as Greek athletes were, runs on into the crowd.
You quick Greek, Aglaus,
you earned the wild applause
you stirred and fuelled
that filled Poseidon's field
with roars.
Out of the groove you moved
as fire burns a field
and up the track you ran and spun
around the turn
and back and then
again and then again
without a pause
for breath, you ran
to rising noise
with springy poise,
the men behind
like panting boys.
You cut no slack
on every tack
sped up and back
and spun four times around
the posts and down
again.
Your oil flew off like rain.
You won
by half the track
and ran straight on
so coyly proud
still spraying oil
to share the joys
you'd won with loyal
fans among the crowd,
who all got spattered,
ceased their noise
and to a man
they screeched aloud
and clutched their robes
and ran
and scattered.
[Bacchylides, Isthmian Ode, for Aglaus of Athens, Footrace, 5 bC]
Nicarchus
Although the Greeks' Games had religious significance, that did not mean (as the later part of the previous poem shows), that writers had to take running over-seriously. Here is a poem that satirizes Charmus, a runner so slow that he finished seventh in a field of six. I have changed the names a little. Remember that Greek athletes competed nude.
One day, six starters lined up for a race,
And poor old Charley came in seventh place.
No kidding - Chuck came seventh out of six,
And, honest, there were no late-entry tricks.
What happened was, the day was damp and chilly,
And who showed up, but Charley's old friend Billy,
Encumbered in a heavy winter coat,
With linings, straps, and fur all round the throat.
(The athletes had to wear the altogether,
Which must have turned bits blue in that cold weather.)
Well, there was Billy cheering with the crowd,
And when he gets excited, Bill gets loud.
The race came by, the crowd jumped up, and ran
Alongside, each one cheering for his man.
So Bill yells, "Charley! Good job! You can do it!
Get going, man! You're coming last! Oh, screw it!"
At Charley's side he ran, that old coat flapping,
Cheering, exhorting, pleading, whooping, clapping.
Away up front, the five guys crossed the line,
And got their wreathes of olive, oak and pine,
While Bill urged Charley on with pleas and nudges,
Until he found himself among the judges.
Sixth placer! Those officials, unimpressed,
Just DQ'd Bill for being overdressed.
But when you think, there is a happy end -
Old Charley's glad he's only got one friend!
[Nicarchus, Satire, aD 1]
Credits - WorldwideRunning.com would like to thank the Runner's Gazette for the permission to reprint the article "Three Running Poems from Ancient Greece" by Roger Robinson. Roger Robinson's book "Running in Literature" extends from ancient Greece to newly published poems of 2003, and everything in between, including modern running novels, non-fiction, and children's running stories. Hardback, 304 pages, it is published for $22 by Breakaway Books, obtainable from bookstores, running stores, online book suppliers, or from www.breakawaybooks.com. Roger Robinson is a professor of literature, author, senior writer for "Running Times", and former Boston and New York Masters record-breaker.
---
Since September 7, 2007 - © Aerostato, Seattle - All Rights Reserved.


JOIN THE WORLDWIDE RUNNING NETWORK
5kCalendar.com | AccidentalAthlete.com | CalendarioTrail.it | CorrereNelDeserto.com | DeadRunnersSociety.com | HalfMarathon.net | ePodismo.com | MarathonCoupons.com | Maratone & Maratoneti | OlympicGamesMarathon.com | RoadRacingStats.com | Run100Days.com | RunningCalendar.com | RunningInItaly.com | TuttoMaratona.com | Ultramaratona.it | VerticalRunning.it | WorldwideRunning.com