How to race a lot without going broke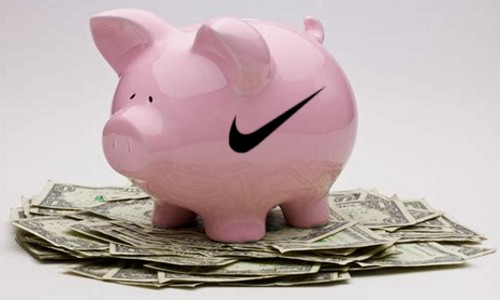 At a recent event, someone asked me if I was a millionaire, because I race so much. While I would have liked to say yes, money is of no concern to me, the reality is that I'm just like most runners who struggle with balancing their racing budgets with many other financial pressures. But his comment did make me realize that running and racing do have a high priority in my spending decisions, and it caused me to think about some of the ways I try to minimize the damage that my running habit causes to my wallet.
Race fees seem to be on a never-ending spiral upward. It's not just marathons, some of which have fees over $200; even local 5k events often cost between $35 and $55. Of course you also need the proper gear, and if you add up a nice pair of running shoes, socks, shorts, shirt, and maybe a hat, you're easily wearing $200 or more. In our modern techno-society, "proper gear" also probably means you are wearing a GPS watch, some classy shades, and perhaps a few other accessories - maybe another several hundred dollars worth of stuff. Run a lot and you will be eating more - higher food bills - and you might even develop a habit for expensive gels and other "fuel" that the marketers are so good at convincing us to buy. If you travel to a race, transportation and hotel costs can be very high as well.
So yes, running does cost a lot. The notion that running is cheap because it just requires a pair of sneakers is quite simply not true. But the good news is that just like there are ways to shave a few seconds off your PR, there are ways to shave a few dollars off your total running bill. It just takes a bit of planning and attention to details. Here I'll share a few ideas about how to get the most miles per dollar.
Register early - One of the easiest ways to save money is to register for events early. Most races offer an early-registration discount, often a quite substantial amount. I have registered for some races as far as a year in advance in order to save money. One recent marathon offered race-day registration for next year's event for only $50! It's possible that you may miss one or two races when you register very early, due to injuries or unexpected conflicts, but even if you miss a few your total savings from early registration discounts can exceed the lost race fees.
Volunteer - Running isn't a team sport, but none of us can run completely alone either. Events need people to volunteer if they are to be successful. Everyone should volunteer occasionally, simply to "give back" to the running community, but there are some benefits that come to volunteers. You will learn a lot, and some of that knowledge may help you to become a better runner. In addition, it's not unusual for volunteers to receive perks, which can include T-shirts, leftover expo freebies, or even complimentary race entries to future events. Of all the ideas, volunteering was the most commonly mentioned among our group.
Join your local club - Almost every city has at least one local running club (see the Road Runners Club of America website at www.rrca.org to find one nearby). Many of these clubs sponsor racing events and most offer discounts on race fees and other goods and services to members. It's often possible to save more on race entry fees than the club membership fee. In addition, the club is an excellent resource for meeting other runners. In addition to making great friends, you'll find that many of them are happy to share tips, which may help you save money. Many local clubs also offer low-budget racing options. For example, my local club has a few "B" races during the year where they hand out extra shirts from old races rather than printing up new ones, and the awards aren't so fancy. These races are often smaller events but they can be a lot of fun for just a few dollars. If you look around, you may even find some free race events. One person in our group suggested the "Fat Ass" races that pop up all over the country as a fun, free racing option.
Use coupons, discounts, and enter contests - Many races, especially larger events, offer coupons or discounts. For example, the Rock'n'Roll series often has a "Lucky 13" discount on the 13th of the month, along with many other discounts. Groups like the Marathon Maniacs sometimes negotiate special member discounts for races. If you register for a lot of races through Active.com, you might consider joining ActiveAdvantage which will eliminate those pesky "processing fees". Many event sponsors host periodic contests on their Facebook pages, such as a weekly call for posts to answer a race-related question. I recently won a free marathon race entry after entering a contest held by The Marathon Show podcast. Larger race expos also have plenty of vendor booths with raffles.
Get a sponsor - Speaking of vendors, have you ever considered trying to get one to sponsor you? There are numerous running product vendors that actively seek runners to help them promote their wares, and not just elite runners. Most of the sponsorships available for average runners won't give you a paycheck or cause your closet to overflow with new gear, but they might offer you a few pieces of running apparel, some fueling products, or even free event entries. Sponsorship opportunities are often announced on product websites or social media outlets, or you might hear about them from local coaches or friends. If you work for a larger employer, they may have a program for employees that will cover your training and race entry fees. Usually sponsors are looking for active, influential athletes who are involved in the local community, rather than just the fasties.
Win a race - If you are one of those fast runners, you may be rewarded with free entries to future events or running gear. You don't always need to win, though - some race companies have "grand prix" series where you can accumulate points over a season or even a full year, and in many cases the winners are those runners who have consistently raced, rather than the fastest at each individual race. My local club has an annual Grand Prix and last year I was fortunate to win a goody bag that included a nice tech shirt and a free pair of running shoes of my choice.
Eat cheap - Burning all those calories can only happen when you eat a lot. Chances are, you're not a farmer who can just grow some more food, so your food bills as a runner will likely increase. Ever go on a long run and decide to "reward" yourself with a nice smoothie? Unfortunately the cost of dining out (including fast food) can be extreme, and grocery store prices have not escaped inflation either. If you are a health-conscious runner, you might prefer to shop at an organic food store, which might add even more to the overall cost of your caloric upkeep. I'm not going to suggest eating the cheapest foods, because those often come at a serious cost to your overall health. However, I do recommend minimizing the dining out. We often justify eating out with the convenience factor, but the reality is that you pay a premium for that convenience, and the meal is often less healthy for you. Even the so-called healthy choices at restaurants are often loaded with unhealthy additives that may actually hurt your running. For the meals you do eat at home, you might find that you can save money by buying bulk, taking advantage of sales, and purchasing the lesser-known brands. For example, a big box of oatmeal can provide many days of breakfast; mix in some fresh fruit and you have a cheaper, healthy alternative to processed cereal.
Unless you *are* a king, don't try to live like one - It's so easy these days to get carried away with spending. This is especially true when you travel - the travel industry is expert at finding ways to part you from your hard-earned money. You may be tempted when travelling to a race to loosen up a bit and find excuses to live the high life. Starting lines at big-city events are often near luxury hotels, and you might find yourself justifying an expensive stay with the convenience of walking to the start line. Rent a car, and you'll almost certainly be offered a last-minute "upgrade" to a larger car for just a few dollars more per day (along with worse gas mileage). And meals? Well, we've already covered that in the "Eat cheap" section, but chances are that eating out while travelling will be even more costly since you aren't familiar with the best restaurants. So what to do? One of the best ways to save substantial amounts is to find travel partners. Share the costs of a hotel room, and drive together and split the gas. You'll save money and have a lot more fun at the same time! If you're a member of the Marathon Maniacs, check the bulletin board for fellow racers who are looking to share a room. Another way to save is to use frequent traveler programs. I recently unearthed some hotel points that I earned 15 years ago, and used them to fully pay for a night at a nice hotel the night before a marathon. (Don't get caught up in earning points, though, as you may miss out on some deals if you always stay at the same hotel or fly on the same airline). Shop around and take advantage of Internet search engines to find hotel deals. You can often save 50% or more on hotel prices by staying at a hotel that is a mile or two farther from the start line - I certainly am willing to walk a couple of miles to save hundreds of dollars! If you choose a race where you have family or friends, you might be able to stay with them. In addition to spending time with your loved ones, you'll probably save on food bills since they will know the local eating establishments, or may even feed you at home. Although I've never tried it, some people even suggested sleeping in your car the night before the race (I suspect you need to be fairly young to do this and not be too sore to race the next morning, unless you have a really big vehicle). If you're travelling by air, remember that almost all airlines now charge an extra fee for checked baggage. You may be able to use carry-ons if you pack lightly. Don't fall for the expensive first-class upgrades – as tempting as the extra leg space and comfort might sound after a grueling race, chances are your legs will be fine if you fly in the normal seats for a few hours. Pack some snacks in your carry-on to avoid overpriced airport meals on layovers. Marketing efforts at larger events have become very sophisticated. Perhaps the best example of this is the "VIP" programs that are often sold for an additional fee. There's no question that the VIP treatment is appealing (who wouldn't want a private porta-pottie on race day morning?), but you need to carefully consider whether it fits in your budget. Living within your means applies to more than just race travel. Your racing budget is a choice and it may require that you make sacrifices in other spending areas in order to attend the events that are important to you. In my case, I consider racing events to be an important part of my entertainment, so I spend very little on other forms of entertainment like going to movies or downloading music. And as one person pointed out, there are certainly other addictions and hobbies that could cost you far more than running!
Always use cash or debit - Modern society revolves around borrowing money. I strongly discourage the use of credit cards to pay for running-related expenses, since those expenses are discretionary. If you don't have the cash necessary to pay for those colorful new running shoes or the latest GPS, why not defer the purchase and save up for a while? Running is a long-term, goal-related endeavor. You don't generally get immediate gratification from running, but you know the benefits will come with a long-term focus. Apply that same mindset to your running purchases, and you won't find yourself facing high interest charges and annoying monthly payments. Some travel expenses are difficult to pay without using a credit card (for example rental cars); in those cases, try to use credit only if you are very confident that you can immediately pay it off. Some people say that you can identify someone's priorities by examining their checkbook. If running is important to you, it's likely that your wallet is tapped quite often to support your hobby. I'm not suggesting that you begin over-analyzing your running expenses, or that you begin calculating a cost-per-mile, but with some common sense you may find that you're able to participate in many more events.
Credits - WorldwideRunning.com would like to thank Keith Schlottman for the permission to reprint the article "How to Run and Race a Lot Without Going Broke". A few of his friends from the San Francisco Marathon Ambassadors offered their advice - thanks to Peter, Jen, Monika, Nancy, Charlie, Lauren, Chris, Susan, and Michael for some great tips.
---
Since September 7, 2007 - © Aerostato, Seattle - All Rights Reserved.


JOIN THE WORLDWIDE RUNNING NETWORK
5kCalendar.com | AccidentalAthlete.com | CalendarioTrail.it | CorrereNelDeserto.com | DeadRunnersSociety.com | HalfMarathon.net | ePodismo.com | MarathonCoupons.com | Maratone & Maratoneti | OlympicGamesMarathon.com | RoadRacingStats.com | Run100Days.com | RunningCalendar.com | RunningInItaly.com | TuttoMaratona.com | Ultramaratona.it | VerticalRunning.it | WorldwideRunning.com