Nike+ Sportband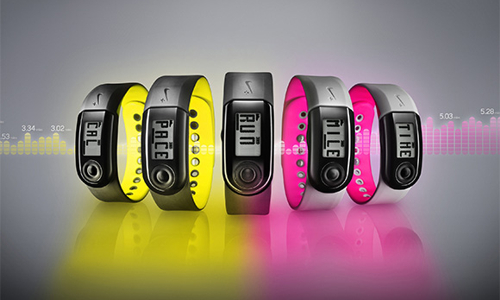 If you've been running for a long period of time (measured in decades, let's say), you have probably seen a ton of gimmicky products aimed at "improving" your running, but actually better designed to separate you from your money and not do much else.
And if you're even a casual user of the social networking tools Facebook and Twitter, you are likely aware that your friends are connecting their Nike+ products to their social networking sites. But, if you're like a lot of "been there, seen that" people who aren't about to let a cutesy gimmick replace the tried and true $50 Timex on your wrist, you may have dismissed an affordable tool that actually does what it purports to.
Cincinnati-area personal trainer and running shoe sales consultant, Shellie Heggenberger, had the same reaction when she first say the Nike+ Sportband. "I was so skeptical," she said. "I had no faith in it."
That'd be easy to do. It looks a bit like a child's toy. It resembles those ubiquitous yellow wristbands sold by Nike and the Lance Armstrong Foundation. It doesn't look serious. But that changes, Heggenberger says, when you use it.
"It's for anybody that wants basic pace and distance measurement," she says. "Anybody can use it. If you don't want to spend $300 for a GPS unit, it's 60 bucks."
Heggenberger trains individual athletes and works at the Fleet Feet running store in Blue Ash, Ohio, where she has a lot of customers who are fairly new runners who want information to help them achieve their goals, but aren't interested in either the expense or complexity of other watches.
"I've used Garmin and Polar systems," she says, "and this is just an easy way to see [your workout information] and it's super simple to use. Plus it goes to Nike+ to keep track."
Nike+ is the website that collects the data from the watch (it's essentially a Flash drive with a rubber band and a watch face that connects directly to your computer via USB port). The website allows the Sportband wearer to store data as well as interact with other users. The information can also be shared with the usual social networking sites.
"It was so quick and easy," she said. "You don't have to calibrate anything but the footpod. Plug it into the computer, and, bam! Here comes the right website. They have different programs to help train you for whatever. They have it right there to tell you what you need."
All that from a little wristband that many runners write off as a gimmick. But Heggenberger says its simplicity is deceptively powerful.
"On Garmins and Polars," she says, "there are so many screens and you can set it up but you scroll and scroll and scroll to see ten different things. You have this with one touch of a button and you can see it. And it keeps track of your previous workout. It won't store all the workouts, so you store it in the computer. It'll give you weekly totals. And I'm not a techie person but I was impressed with how easy it was."
Like the Nike+ iPod device, it communicates with a small pod that is either inserted into the sole of the shoe or attached to the shoe with a small pouch (purchased separately for a few dollars. Fleet Feet Cincinnati owner Jeremy Perlin says he found a company in Cleveland that makes the best, most affordable pouch he's seen – it sells for around five dollars at his store).
Heggenberger says it allows the wearer to avoid having to do speedwork by running in circles on a track. Just click the band on and go. It'll tell you how far you've gone so you don't have to be on a measured course. And, she says, "it's pretty darned accurate," compared to her GPS devices and the measured courses she uses.
It comes in a variety of colors and, like many Nike accessories, serves a fashion, as well as functional purpose. She often wears it to coordinate with her clothing. Plus, she reminds a writer who mentioned his first experience with another company's heart rate monitor/time/distance watch, it's so much easier to use than the devices that cost five times as much.
"You don't have to sit there and study a manual for eight hours to use it."
Credits - WorldwideRunning.com would like to thank Frank Field for the permission to reprint the article "Nike+ SportBand: An affordable alternative to GPS for new, non-techie or thrifty runners". Frank Field writes for the Running Club of Greater Cincinnati.
More running products reviews...
---
Since September 7, 2007 - © Aerostato, Seattle - All Rights Reserved.


JOIN THE WORLDWIDE RUNNING NETWORK
5kCalendar.com | AccidentalAthlete.com | CalendarioTrail.it | CorrereNelDeserto.com | DeadRunnersSociety.com | HalfMarathon.net | ePodismo.com | MarathonCoupons.com | Maratone & Maratoneti | OlympicGamesMarathon.com | RoadRacingStats.com | Run100Days.com | RunningCalendar.com | RunningInItaly.com | TuttoMaratona.com | Ultramaratona.it | VerticalRunning.it | WorldwideRunning.com