How to run more and spend less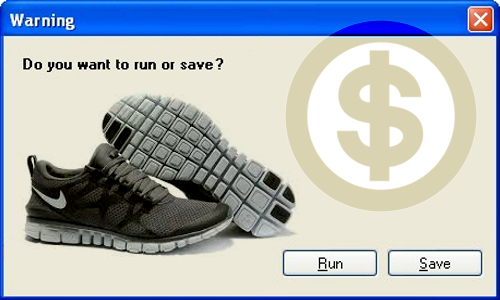 You run to feel free. You run to release stress. You run to simplify. How much are you willing to pay to run? Many spend thousands, even though running can be one of the most affordable sports. Spending more means working more. Working more means running less.
Crunching the nutritional numbers
There are runners who on a short run will consume gels before and during the run, drink bottles of sports drink throughout the run, and eat energy bars. These fuels have their place, but the cost adds up. During my last 20-mile run I drank water and fueled up on nuts and raisins. The total cost of the run was less than a dollar. Pay attention to what you fuel on throughout the week, and then try to cut out a few gels, energy bars and sports drinks. Substitute energy fuels for whole foods that you can buy at the grocery store. You can save a bundle by making your own energy bars and gels.
Race local
I have not run a race that wasn't worth the dough. That doesn't mean that I couldn't have saved a few dollars. Marathon and ultra-runners especially feel the pain of ever-climbing race entry fees. It's great to participate in out-of-town races, but the cost of transportation and lodging can really add up. Have you run all of your local events and races within 50 miles? You will be supporting the local economy and enjoying a sense of local camaraderie. Registering early and getting early-bird prices can save you a bundle over the years. Running for charities can eliminate race fees. Also, by joining a running club you can get deals on races you otherwise would have paid full price.
Cost of clothing
Technical running clothes can be pricey, but with effort can be found at great values. It comes down to shopping around. Paul "Pacer Paul" Carringer, a pace team leader and a runner of over 119 marathons, searches for deals on running apparel. "Marshall's and stores like Marshall's have some of the best running clothing around and at fantastic prices," Carringer says. "Overstock.com can be surprising with bargains in this area as well." Runners have found that they can find technical running shirts, shorts and other apparel at Target, T.J. Maxx and other closeout-style stores. Buying clothes out of season and off the clearance rack is worth the wait.
The well-read runner
Running magazines and training books are a great way to keep motivated, educated and in the know when it comes to running and the latest in the running world. Try subscribing to your favorite running magazine, instead of buying every issue individually. Every running magazine has a website which offers a lot of supplementary articles on training, nutrition and everything else imaginable. The Internet is also useful when it comes to running blogs. Look up your favorite runner - chances are they have a blog. These blogs range from training advice to what's happening in the running world.
The gym
The easiest way to save money on gym costs would be to do as Tym Blackwell does, and run instead, because there is no time for the gym. This doesn't work for those of us who rely on gyms to fill our cross-training needs. Some employers offer work-incentive gym memberships; see if your employer a program in place. "I always buy or renew memberships in the summer. Gyms are looking for members at that time," suggests Carringer.
Run commute
Leaving the gas guzzler at home puts dollars in your pocket and miles on your legs. The popularity of bike commuting is skyrocketing, but run commuting is where it's at. All you need is a good running backpack and a plan. You don't need to run to work every day, instead start out with one day a week. John Robins, who lives three miles from his workplace, has been running to work since 1990. He says, "The main saving is that as a family of six, we need one less car."
Limit your luxuries
Many runners have found they can save by being patient. The minute the newest products hit the shelf is going to be when they are the most expensive, so by waiting and buying last year's products you can end up with the extra cash. Just as a training plan, having a planned budget for running can be valuable. By doing this you figure out where unneeded or excess spending is happening. In the end, you will be running more while spending less.
Credits - WorldwideRunning.com would like to thank OutdoorsNW magazine for the permission to reprint the article "On the Run: How to run more and spend less!" by Clint Cherepa. Reprinted with permission from OutdoorsNW magazine, www.outdoorsnw.com. Clint Cherepa is the Running Columnist for OutdoorsNW. He is currently in Nicaragua, where he has been busy training for ultra-marathons and working on a new venture: www.strongerrunners.com.
---
Since September 7, 2007 - © Aerostato, Seattle - All Rights Reserved.


JOIN THE WORLDWIDE RUNNING NETWORK
5kCalendar.com | AccidentalAthlete.com | CalendarioTrail.it | CorrereNelDeserto.com | DeadRunnersSociety.com | HalfMarathon.net | ePodismo.com | MarathonCoupons.com | Maratone & Maratoneti | OlympicGamesMarathon.com | RoadRacingStats.com | Run100Days.com | RunningCalendar.com | RunningInItaly.com | TuttoMaratona.com | Ultramaratona.it | VerticalRunning.it | WorldwideRunning.com