Running in cemeteries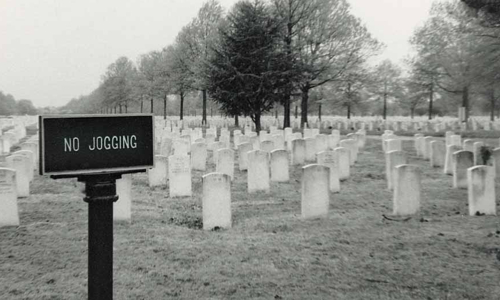 Our running routes can take us to wondrous places; varied vistas where we can gaze upon a stunning sunset or a dazzling dawn; where we can run through lush foliage or run by bucolic brooks. Or... through those final resting places in which all of us will rest, when we cross that final finish line. You guessed it, Dear readers, Miss Road Manners is talking (in a reverent tone, of course) about cemeteries.
Miss Road Manners often runs through a local cemetery. She enjoys the quiet, peaceful paths as she passes the markers, each telling its own family story. "Cemetery running" provides a unique experience. Most people only visit these final-resting places to pay their respects to their dear departed or to perhaps take headstone rubbings. We, dear runners, see this world from another perspective.
A word of caution, though, before you traverse the terrain: Please check with the cemetery to make sure that running is permitted. Keep in mind that cemeteries are places where people want to visit, pray, commune with their departed loved ones, in addition to the funerals that take place daily. We must be mindful of others, both those in final repose and those paying their respects.
Dress appropriately, dear runners. Although wearing next to nothing is apropos in the mid-summer heat, it is non-apropos for cemeteries. Burn this word into your running memory - unobtrusive. Runners must be unobtrusive as they make their way through a cemetery. If people are visiting a gravesite, or a funeral is taking place, be respectful and choose another path. Cemeteries are sacred places and we are just visiting... for now.
Be mindful, be quiet, be unobtrusive. And be aware. When the Grim Reaper taps you on the shoulder with his scythe, you can hold you head high, knowing that you honored those that have gone before.
Run in peace.
Credits - WorldwideRunning.com would like to thank Freddi Carlip, a.k.a. Miss Road Manners, the editor of Runner's Gazette, for submitting this article. Image © 1993 by Neil J. Murphy, used with permission.
---
Since September 7, 2007 - © Aerostato, Seattle - All Rights Reserved.


JOIN THE WORLDWIDE RUNNING NETWORK
5kCalendar.com | AccidentalAthlete.com | CalendarioTrail.it | CorrereNelDeserto.com | DeadRunnersSociety.com | HalfMarathon.net | ePodismo.com | MarathonCoupons.com | Maratone & Maratoneti | OlympicGamesMarathon.com | RoadRacingStats.com | Run100Days.com | RunningCalendar.com | RunningInItaly.com | TuttoMaratona.com | Ultramaratona.it | VerticalRunning.it | WorldwideRunning.com