In the Land of a Thousand Hills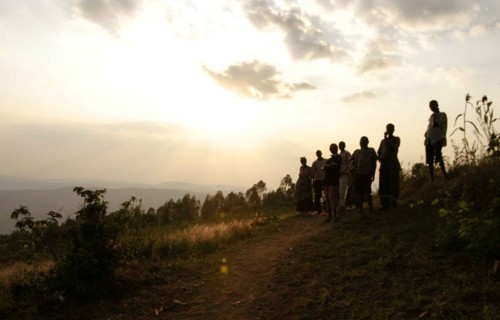 By Matthew Chico - The first light on race morning was a bit ominous. It was too bright, too soon. The last couple of days had been unseasonably warm, and cloud cover would have offered some relief. The first-ever Rwanda marathon, with its high altitude and countless hills, was going to be a challenge under any circumstances. And now, we had sapphire blue skies.
Our Rwandan friends and neighbors had never seen anyone run on a consistent basis, and because I did they were certain I would win. I knew better. In the four months we had been here, I had seen some extraordinary talent. I hoped to have a respectable race and, if good fortune accompanied me at every turn, perhaps a personal record.
Rwanda. The name itself calls to mind images of great human suffering. The horrific events of 1994 represent the only association much of the world has with this tiny nation. Nearly one million people died in 100 days time, the most systematically efficient genocide in history. Its size, however, is much smaller than its history. Tucked into the Great Lakes Region of Central Africa, Rwanda has a landmass equal to Maryland, my home State. My wife, Laura, and I relocated here in January 2005. She is working for the Rwanda Friends Peace House in trauma healing and peacebuilding while I am involved in several projects for the Ministry of Health.
Rwanda, known as the "Land of a Thousand Hills", is a fabulous place to run. The capital city of Kigali is perched 4,800 feet above sea level and is knit together by a network of well-paved roads. There are dirt paths everywhere, soft and forgiving on the knees, radiating into the surrounding countryside.
My favorite run is up to a ridgeline overlooking the city to the north and a lush valley of sugarcane and banana trees to the south. Passion fruit, pineapples and papaya grow on terraced hillsides, interspersed with groves of mango, avocado and coffee. Every imaginable shade of green dots the landscape. In the early hours of the morning, finger-shaped clouds cling to the valley floors, keeping the air misty and fresh. Wherever I run, nearly everyone greets me. Somehow running makes me more accessible, more approachable. Not a day passes without someone joining me for a stretch.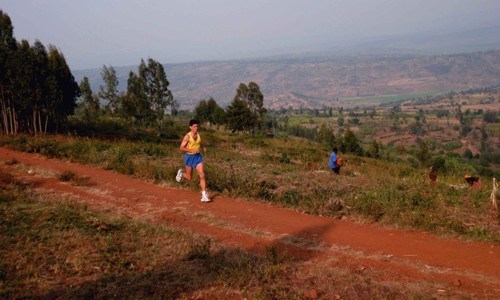 It is a curious sight, even entertaining, for Rwandans to see a foreigner run. I have been told a number of times that I should get a car; it is much easier to get wherever I am going. There are times, as well, when I have come to a full stop, blocked by a small herd of long-horned cattle in my path. As is always the case, the cattle have been brought there for grazing and a young boy is sitting nearby keeping an eye on the herd. When he notices the impasse, he hops to his feet with a stick in hand and proceeds to tap each animal on the side to clear a path for me.
I needed to adjust to being asked directly for money from young and old alike, even while running. It is part of living in a country where the average income is $260 per year, where one of every 10 women dies in childbirth, where one in five children does not see his or her fifth birthday. Laura and I moved here to assist in our professional capacities, but in the face of visible poverty, that was somehow not enough. So we have started to pay the school fees of several children, meeting an immediate need while investing in their future. And still, this is pale in comparison to the generosity of Rwandans. In the wake of the genocide, thousands upon thousands of children were orphaned. A generation of youngsters - Tutsi and Hutu both - could have been lost to the streets had survivors and returned exiles not opened their homes. But they did. Some of our closest Rwandan friends have had as many as 10 orphans under their care on meager salaries by any standard, providing food, clothing and, if possible, school fees.
Marathon packet pick-up was held at the National Stadium. There was no grand marathon exposition with hundreds of vendors handing out free samples, no demonstrations of the latest running gadgets and equipment, no autograph booths with the all-time greats of our sport on hand. And still, sparks of excitement filled the air. Kids streamed into the hallways of the stadium, eager to collect their numbers and, yes, ChampionChips. A computer company from Belgium stepped in at the last minute to install the hightech timing system for the 5K, half marathon, and marathon. For nearly all of them, this was their first organized run and it would be carried live on four radio stations and national television.
The marathon course was a 10K circuit that looped four times with some additional laps around the stadium track to make up the 42K of the marathon distance. During the genocide the stadium was a short-term refuge for thousands of Tutsi and moderate Hutu, protected by a handful of United Nations peacekeepers from Senegal.
But today was a new day. When the official clock began, we poured out of the stadium's southwest exit and flowed onto the roads of Kigali. Only then could I see the range of footwear pounding the pavement - athletic shoes, hard-sole shoes, light leather boots, an assortment of flip-flops, dress socks, and plenty of bare feet. After passing Chez Lando Restaurant, we ran down, down, down a divided boulevard and then up, up, up toward the National Parliament. The building is a monument itself. In the closing days of the genocide, it was peppered with mortar shells, leaving holes visible to this day from miles around. From there, the course veered right, crested a small knoll and continued downhill still more to the aptly named Green Hills Academy, our turn-around point. The good thing about a loop course is you know what is coming up. The bad thing about a loop course is that you know what is coming up. And on this course, every downhill becomes an uphill and every uphill becomes a downhill.
Laura and friends had positioned themselves strategically along the route so I could cross paths with them eight times. They were ready with an ample supply of Gatorade, water and gels, although the marathon aid stations were well spaced and stocked with plenty of water and bananas. There were sponge tables, as well, with white foam cubes soaking in water basins. Most spectators on the roadside watched with great interest, but few were vocal. Those who did cheer yelled out, "Courage!" borrowing from the French equivalent to "You can do it!"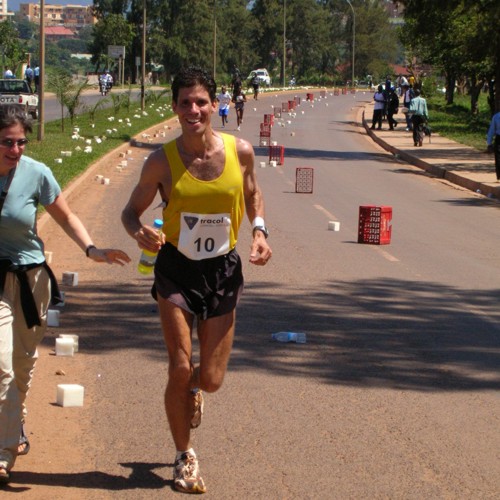 Inside the stadium musicians, drummers, and traditional dancers entertained runners and the several thousands spectators on hand. During my second lap, a young Rwandan runner pulled up next to me. She could not have been more than 13 years old, wore a dark blue tank top and had a shaven head. Whether she meant to or not, she fooled some bystanders into thinking she was a boy. Girls do run in Rwanda, but their numbers are few. For the better part of five miles she ran alongside me, stride for stride with unwavering focus, grace and strength. She glided so smoothly, I forgot she had no shoes. I wondered what reservoir of talent she has yet to be tapped.
While my mind was full of inspirational thoughts, temperatures rose like a hot air balloon inching into the low 90s. On the third lap, the road began to extract a slow steady toll on me. Some days are made for PRs. Some days are made just for finishing.
Despite the heat, the marathon was a success all around. Media boasted that runners had come from 21 Countries, demonstrating solidarity with Rwanda and bearing witness to the progress that has been made since 1994. I was proud to be a part of a Rwanda which, like the young girl running beside me, is striding forward with focus, grace and strength.
Credits - WorldwideRunning.com would like to thank Matthew Chico for the authorization to reprint his article "Cross-culture running: Marathoning in the Land of a Thousand Hills", originally published on the March 2006 issue of "Running Times" (www.runningtimes.com). The first two photos are by Eliot Recter, the third photo by Timothy Brubaker.
---
Since September 7, 2007 - © Aerostato, Seattle - All Rights Reserved.


JOIN THE WORLDWIDE RUNNING NETWORK
5kCalendar.com | AccidentalAthlete.com | CalendarioTrail.it | CorrereNelDeserto.com | DeadRunnersSociety.com | HalfMarathon.net | ePodismo.com | MarathonCoupons.com | Maratone & Maratoneti | OlympicGamesMarathon.com | RoadRacingStats.com | Run100Days.com | RunningCalendar.com | RunningInItaly.com | TuttoMaratona.com | Ultramaratona.it | VerticalRunning.it | WorldwideRunning.com