Tips for running and traveling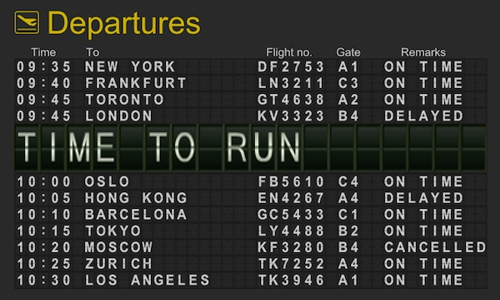 If you are an avid runner, as I am, running while you are on traveling and vacation is a given. Packing my running shoes is as normal to me as packing my underwear! Running while you are on vacation has many advantages:
1. Exploration. While running on vacation, you may run on roads and get to see some things that you normally wouldn't. You may also see wildlife, a beautiful sunrise over the ocean, and more. Also, I've found backroads that may be a short cut to somewhere we are going - or bypass traffic.
2. Keep some of those vacation pounds away. My husband and I love to eat as nice places while we are on vacation. Getting my runs in help to keep vacation weight gain to a minimum. Plus, you don't feel half as guilty for not eating well!
3. Still get your "me" time. As everyone who knows me is totally aware of - I am so in love with my husband. After 28 years, I still believe that he is my soul mate. However, I still need my "me" time. I may be an only child which may explain it, but I feel everyone needs "me" time. Running on vacation allows me that luxury.
But you need to keep some things in mind while running on vacation. Here are some tips to help:
1. If you are flying, pack your running shoes in your carry on. Luggage can get lost, and you may have to buy some clothes. But, I don't want to have to worry about new running shoes. I always carry my shoes and one running outfit in my carry on.
2. Check out Google maps before you leave to check out the area. You'd be surprised the parks, river trails, greenways, etc. that may be close to where you are going to be. If you are traveling to a larger city, exploring these areas can be a nice getaway during your getaway!
3. Check out local running clubs. Most running clubs have websites - check them out to see if they have any routes that they recommend. If they don't have anything listed, there is usually a contact person. Drop them an email and see if they can help you find a nice route or routes.
4. Ask the hotel where you are staying. I have found great areas to run just by asking the front desk or the concierge. With more and more people running every year, the staff is aware of safe places to run. Also, if you strike up a conversation with them, how many of them actually run themselves.
5. There are also really cool websites where runners in a certain area list their favorite runs in their city or others they have visited. You can also visit running forums and ask members of they know of any great areas to run where you are going to be.
6. Be aware of where you are. It's easy to turn here, turn there and then got lost. I once turned a quick 3 mile run into a nice 7-miler in Hawaii. Not intentionally, just got lost. But, I saw a lot of nice areas! I was lucky that everyone there is usually so nice - but it's better to keep a better eye on where you've gone.
I can't imagine not running while I'm on vacation. I hope these tips help you during your next trip.
Credits - WorldwideRunning.com would like to thank Go Articles for the permission to reprint the article "Tips For Running And Traveling" by Judy Mick. Judy Mick has been running since 1978 and has not missed a day since 1985. She has published a running book on Kindle, has numerous articles and short reports on running. Visit her blog at http://www.thestreakingrunner.com.
---
Since September 7, 2007 - © Aerostato, Seattle - All Rights Reserved.


JOIN THE WORLDWIDE RUNNING NETWORK
5kCalendar.com | AccidentalAthlete.com | CalendarioTrail.it | CorrereNelDeserto.com | DeadRunnersSociety.com | HalfMarathon.net | ePodismo.com | MarathonCoupons.com | Maratone & Maratoneti | OlympicGamesMarathon.com | RoadRacingStats.com | Run100Days.com | RunningCalendar.com | RunningInItaly.com | TuttoMaratona.com | Ultramaratona.it | VerticalRunning.it | WorldwideRunning.com