Tips for running on a budget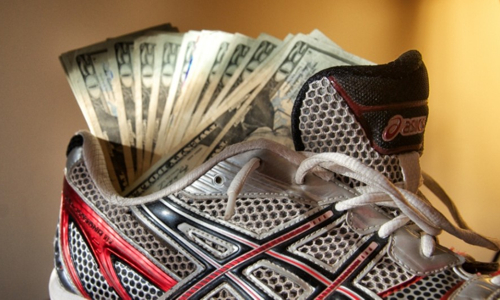 Running on a budget can be a difficult task. Compared to other activities, running is a relatively low-cost sport. We can do it almost anywhere, and our bodies are our main piece of equipment. That said, there are still costs. Things can add up. Running needn't be something that empties your pockets. Here are a few tips to be sure you can maintain your love for running without breaking the bank.
Buy your shoes on sale
The most important piece of equipment a runner can buy is quality and properly-fit shoes. This is not the area to cut corners. But depending on your shoe, this can set you back well over a hundred dollars a pair, and if you are running a lot you will need to replace them more often. When I say to buy your shoes on sale, don't walk into a store and buy the cheapest pair you find. Fit matters. A lot! Head to a local running specialty store and get fitted.
A couple years ago I happened upon the shoe I wear... on sale! I discovered that the previous year's "model" was being liquidated to make room for the new year's, and they were selling for $35 cheaper than what I pay full price. You might not always get the color of your choice, but if you can find out when your shoe line releases the next version, you can stock up on those that they are trying to get rid of.
Find a smaller race
We all love the big, well organized race series, but they can get a little spendy. If you are looking to tune up those legs, look for a smaller race. These often have inexpensive entry fees. Just be warned that you may forgo some of the normal perks that come with larger entry fees (like an accurately measured course).
Volunteer for a local race company
Without the amazing volunteers at races, they would not happen. Volunteers really make a race day successful. We have all benefited from the patient souls who put up with the messes we make at water stations. Let's return the favor. Sometime soon, volunteer for a race. Often you will get rewarded with some free gear (it adds up!), discounted entries (or free), plus the feeling you are giving back to the running community.
Join or organize a free running group
I love running with other people because it really keeps me motivated. Running clubs abound in our city, but the cost to join one can hurt the pocketbook. Organize your own running group with your fellow pavement-pounders and take turns planning your route, or ask around and join a group that already exists. Just join them on Meetup to stay informed and find out when they are running.
Shop the outlets
I am a big fan of shopping local so prefer to patronize my local running store. But if you are in need of gear and cost is an issue, head out and peruse the sporting good outlets where you can find the same products for less (e.g., Nike, Adidas, Under Armour, etc.). Just be sure that's not all your driving out there to buy. The cost in gas will otherwise eat up your savings pretty quickly.
Race selectively
If you prefer longer races and a shorter race is tempting just for kicks and giggles, ask whether the entry fee is worth it. Your cost per mile is about $11/mile for a $35 5k compared to $5/mile for a $70 half marathon. If your racing budget is limited, only run the races that you can't do without.
Credits - WorldwideRunning.com would like to thank MinneapolisRunning.com for the permission to reprint the article "Tips for Running on a Budget" by Sarah.
---
Since September 7, 2007 - © Aerostato, Seattle - All Rights Reserved.


JOIN THE WORLDWIDE RUNNING NETWORK
5kCalendar.com | AccidentalAthlete.com | CalendarioTrail.it | CorrereNelDeserto.com | DeadRunnersSociety.com | HalfMarathon.net | ePodismo.com | MarathonCoupons.com | Maratone & Maratoneti | OlympicGamesMarathon.com | RoadRacingStats.com | Run100Days.com | RunningCalendar.com | RunningInItaly.com | TuttoMaratona.com | Ultramaratona.it | VerticalRunning.it | WorldwideRunning.com