Top 10 songs to keep you running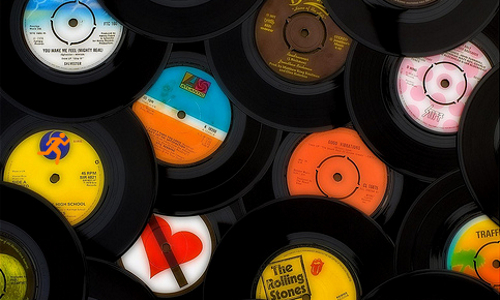 Sometimes it is hard to get motivated to run or keep plowing through a run, however, the right playlist can keep you going and keep you focused during your run. If you are looking for a fun playlist that will surely keep your legs in gear while running, look no further! These upbeat songs will keep your feet and heart pounding.
10. My Humps (Black Eyed Peas) - This is a sure fire way to start your run off. Nothing says long distance running like Fergie singing about her lady lumps. The beats to this song have great rhythm too!
9. Flight of the Bumblebee (Nikolai Rimsky-Korsakov) - Did you wander to another article that is about classical music? No. This song is sure to pump you up during your run with its determined melody. You will be a determined bumblebee throughout your run too.
8. Whip It (Devo) - Devo is going to whip your into shape. Seriously, stop laughing and get running. Just try not to sing it out loud or people might start to wonder about you.
7. Born to Run (Bruce Springstein) - Corny much? I'd say so, but who cares? Not me! This song is great for a good run or any occasion.
6. Call Me Maybe (Carly Rae Jepsen) - Everyone, and I mean everyone knows the lyrics of this song, whether they want to admit it or not. Call Me Maybe will have you flying through your run.
5. I'm Too Sexy (Right Said Fred) - You know this is how you are going to feel after your run, so why not get pumped for it during your run. Motivation, that's what it is all about people.
4. I Saw The Sign (Ace of Base) - Don't worry, this one can be our dirty little secret. Honestly, I won't tell a soul.
3. I Like Big Butts (Sir Mix-A-Lot) - I know you're wondering how a song about big butts got on your running playlist, but all experienced runners know that running can make your booty perkier than the clowns at a traveling circus. Plus, it's a hilarious song with a great rhythm that will make you forget all about your aches during your run.
2. We Will Rock You / We Are The Champions (Queen) - This song is played at pretty much every sporting event and for good reason! Just listen to it. We Will Rock You is beyond motivating and if you have never sang We Are The Champions at the top of your lungs at least once in your life, you don't know what adrenaline feels like.
1. Eye of the Tiger (Survivor) - You're surprised aren't you? I know it's not the most clever #1 song for a running playlist, but let's face the facts, you know you are going to be jumping up and down with your fists up in the air after your run. Don't lie, everyone has done it at least once in their post-run high.
This compilation of songs should help motivate you and keep you lighthearted during your run. Running should be enjoyable and a playlist like this couldn't make it anything but fun. Keep your legs moving, your head down and have fun!
Credits - WorldwideRunning.com would like to thank ArticlesBase.com for the permission to reprint the article "Top 10 Songs to keep you going while running" by Chris Lemassif.
---
| | | |
| --- | --- | --- |
| | | Running Top 10 - From the top ten reasons to run to the top ten reasons *not* to run, this section includes both serious and humorous running lists for all walks of life. |
---
Since September 7, 2007 - © Aerostato, Seattle - All Rights Reserved.


JOIN THE WORLDWIDE RUNNING NETWORK
5kCalendar.com | AccidentalAthlete.com | CalendarioTrail.it | CorrereNelDeserto.com | DeadRunnersSociety.com | HalfMarathon.net | ePodismo.com | MarathonCoupons.com | Maratone & Maratoneti | OlympicGamesMarathon.com | RoadRacingStats.com | Run100Days.com | RunningCalendar.com | RunningInItaly.com | TuttoMaratona.com | Ultramaratona.it | VerticalRunning.it | WorldwideRunning.com